We need your help to complete a comprehensive Forest Preserve trails inventory in the High Peaks and catalogue illegal motor vehicle and ATV use in other areas in the Adirondacks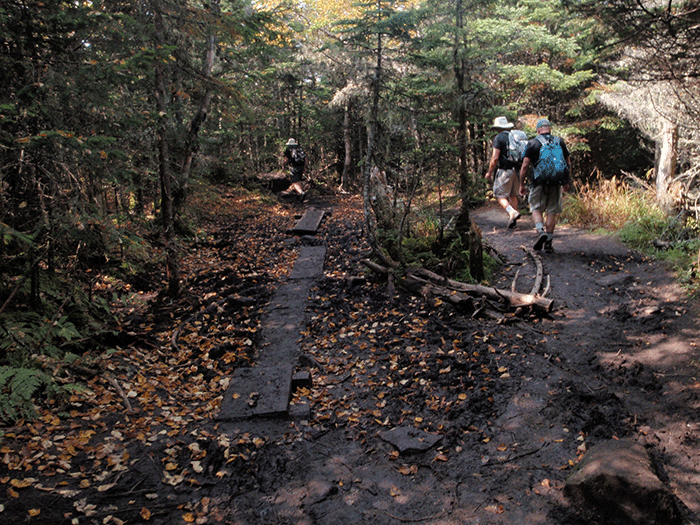 A trail with a boardwalk where a side trail has formed. We need the help of trail monitors to identify trails on state lands where improvements should be made to protect natural resources and the user experiences.

Protect the Adirondacks is organizing a team of volunteers to hike trails and inventory conditions in the Forest Preserve throughout the Adirondack Park. The purpose of this effort is to monitor trail conditions, overuse by the public, and document motor vehicle trespasses and impacts. We're seeking individuals to canvas the Forest Preserve to report on and document overuse and illegal motorized trespasses.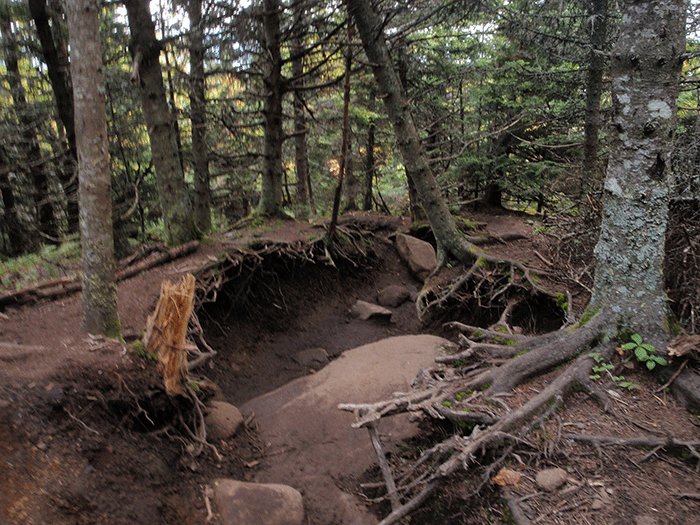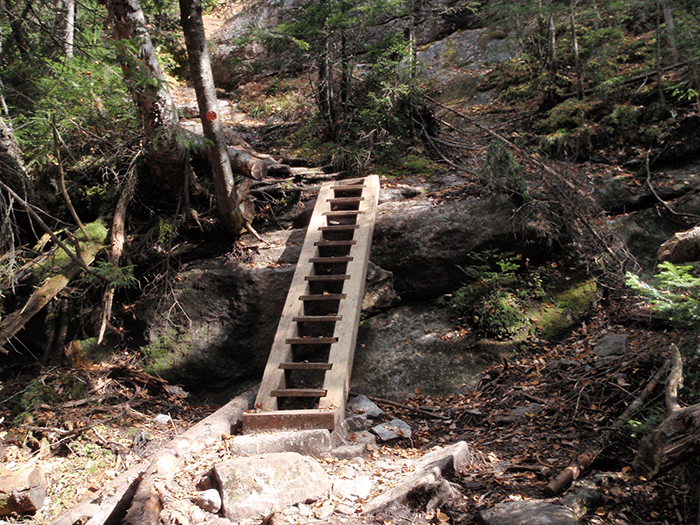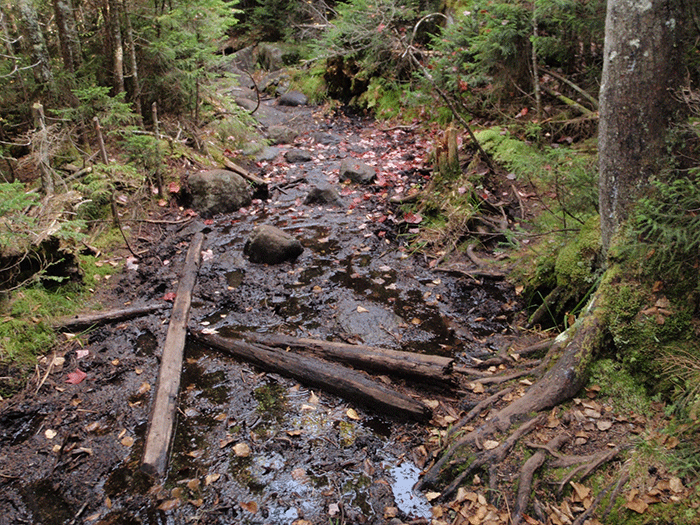 These pictures show trail erosion, a wooden staircase, and an area that is poorly drained and chronically wet. These are the types of trail conditions that will be identified and catalogued.

The Forest Preserve is receiving the highest level of use in years, which appears to be increasing each year. Cascade Mountain is getting over 40,000 hikers a year and some other High Peaks are seeing over 20,000 and 25,000 hikers. In some areas trails and facilities are degrading with the heavy use. We need to document areas in need of upgrades or modifications.
The Forest Preserve today is not adequately funded and suffers from chronic under-investment. Trail inventories will help us to advocate for greater investment in the maintenance and management of the Forest Preserve.
Volunteers will be trained to follow a scientific field study protocol, learn GPS, map and compass reading, and work with a scientific database program. A smartphone is necessary. The purpose of the project is to document the condition of trails and facilities, such as bridges, stone staircases, campsites, lean-tos, boardwalks, among others.
The initial focus will be on the High Peaks, but we plan to expand to other areas of the Forest Preserve in the years ahead.
Track Illegal ATV Use In the Forest Preserve
2018 marks the 15 year anniversary of the investigative report Rutted and Ruined, which led to the closing of more than 90 roads on the Forest Preserve to ATVs. This is great work for people that want to help protect the Forest Preserve and see wonderful places throughout the Adirondacks.
In 2003, one of the organizations that merged to form Protect the Adirondacks, published a report that capped four years of research about damage inflicted on the Forest Preserve from All Terrain Vehicles (ATVs). Early in 2003, the Residents' Committee to Protect the Adirondacks (RCPA) published Rutted and Ruined: ATV Damage on the Adirondack Forest Preserve. This report catalogued through pictures and legal analysis the damage that ATV riding caused on the Forest Preserve and showed the ways that ATV riding was very different from other types of motor vehicles. The impacts and the damage caused were specific to ATVs.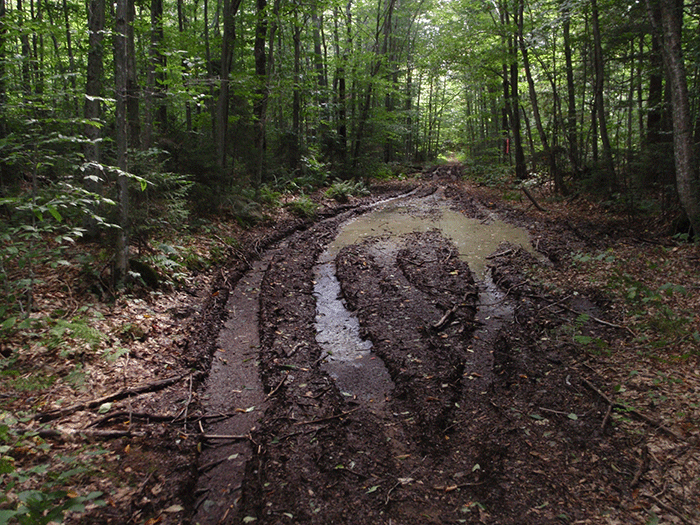 An example of damage from illegal ATV use on the Gull Lake Trail in the Black River Wild Forest Area. ATVs can go around gates and access areas across the Forest Preserve where motor vehicles cannot travel.

Rutted and Ruined had a significant impact. At that time, ATV use had been authorized by state agencies on more than 90 roads on the Forest Preserve. ATVs not only destroyed many of those roads, but regularly drove off-road onto foot trails or snowmobile trails, where they caused great damage. They also created their own illegal trail network in many places across the southern and western Adirondacks. The RCPA used Rutted and Ruined to launch a campaign that resulted in state agencies closing all areas that had been opened for ATV use on the Forest Preserve.
The ban on ATVs was a great conservation victory in the Adirondacks. 2018 marks 15 years since Rutted and Ruined was published. This summer, Protect the Adirondacks in pleased to announce that we've been awarded an environmental action grant by Patagonia to put a team into the Forest Preserve to document existing problems with ATV trespass and natural resource damage.
This project is partly supported by Patagonia. PROTECT was nominated for the Patagonia grant by Mountainmain Outdoor Supply Company, which has stores in Saratoga Springs and Old Forge. "We're proud to be a supporter of PROTECT and to represent Patagonia in our stores. In getting more people to enjoy the outdoors and partnering with groups like PROTECT we can ensure that great outdoor opportunities in the Adirondacks will be here for generations to come," said John Nemjo, President and Founder, of Mountainman Outdoor Supply Company.
Contact Protect the Adirondacks if You Are Interested in Working to Protect the Forest Preserve
Contact PROTECT at info@protectadks.org. This is a great opportunity to explore the remote and wild areas of the Adirondacks and help to protect the public Forest Preserve.