2019 Protect the Adirondacks Annual Meeting will be held on July 20th at 9:30 AM at The View in Old Forge
On Saturday July 20th, Protect the Adirondacks is holding its annual membership meeting at The View in Old Forge in the western Adirondacks This is a great opportunity to get an update on the major issues facing the Adirondack Park, see PROTECT's priorities for the year ahead, and meet the staff and Board of Directors. The annual meeting includes the Conservation and Advocacy report, financial report, membership report, and election to the Board of Directors.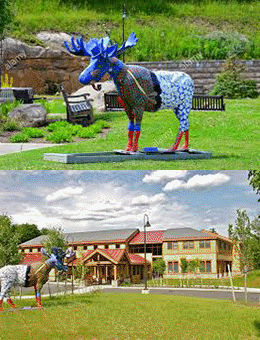 The day starts with a welcome and refreshments at 9:30, followed by the a business meeting, conservation and advocacy report, awards, and presentation concluding by 12:30, when lunch will be served. This year's annual members meeting also includes approval of new draft Bylaws for the organization. There are afternoon short hikes and canoe paddles also set up.
Generous Sponsors of 2019 Annual Meeting
Ellen C. Collins
Sarah Cohen
Linda Cohen
Marilyn Murphy DuBois
Bob Glennon
John and Susan Hoekstra
Charles Morrison
Howard Zahniser Adirondack Award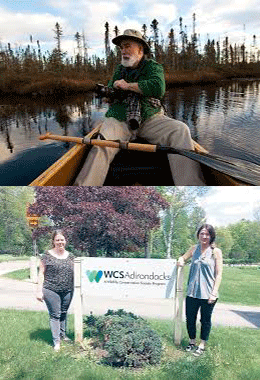 Protect the Adirondacks will present the Howard Zahniser Adirondack Award in 2019 to The Wildlife Society Adirondack Team. For 20 years the Wildlife Conservation Society's (WCS) Adirondack Program was the leader in scientific research in the Adirondack Park. By combining scientific research, education, and community outreach the WCS Adirondack Program team tackled some of the most challenging wildlife management, private land use regulation, and natural resource protection issues in the Adirondack Park. The Adirondack Program's publications made longstanding contributions to public understanding of Adirondack history, the Park's rich and diverse ecology, and the complexities and challenges facing Adirondack communities.
The WCS Adirondack Team includes Jerry Jenkins, Heidi Kretser, Michale Glennon, Zoe Smith, Leslie Karasin and Carriane Pershyn.
Howard Zahniser was a noted Wilderness advocate with long roots in the Adirondacks. He campaigned his entire adult life for passage of the National Wilderness Act, which was passed just after his death in 1965. His research into successful Wilderness preservation models brought him to the Adirondacks where he met legendary conservation activist Paul Schaefer and the two became great friends. The Zahniser cabin is still used today by his family today.
Register today for the 2019 Annual Meeting at The View in Old Forge
Register online below:
Register by mail:
Protect the Adirondacks
PO Box 48
North Creek, NY 12853
Cost is $35, which includes lunch and refreshments. You can pay online here or send a check for $35.
Annual Meeting Agenda
9:30 AM Registration and Refreshments
10:00 Welcome by Chuck Clusen, Chair, Protect the Adirondacks
10:10 2018-19 Financial Report by Dave Quinn, Treasurer
10:20 Approval of new organization bylaws by the membership
10:25 2019 Board of Directors Slate by Michael Wilson, Vice Chair
10:30 Election of Officer 2019-2021
10:30 Conservation and Advocacy Report by Peter Bauer, Executive Director
11:15 Adirondack Park Green Business Award to John Nemjo, Mountainman Outdoor Supply Company
11:20 Howard Zahniser Adirondack Award to the Wildlife Conservation Society Adirondack Team
11:30 "Climate Change and the Adirondack Park" by Heidi Kretser, Michale Glennon, and Jerry Jenkins, a hard look at changes already evident across the Adirondack Park
12:30 Lunch
1:30 Guided and interpreted short hike up Rondaxe (Bald) Mountain or a canoe paddle on the North and Middle Branches of the Moose River led by Peter Hornbeck
4:00 Wine, beer and cheese reception at the home of Ken and Joanne Strike in Thendara, on the Moose River River
Draft New Revised Bylaws for Protect the Adirondacks
Protect the Adirondacks is proposing a series of changes to its bylaws to update its management and advocacy. These revisions need to be approved by the membership at the July 20th annual meeting on Old Forge.
Click here to read the proposed amended bylaws.
Board of Directors Election Slate for 2019
Richard Booth, Ithaca, NY: Mr. Booth teaches in the Cornell University School of Art Architecture and Planning where he has mixed his responsibilities as a professor with substantial periods of public service. For example, from November 2007 through June 2016 he served as a member of the New York State Adirondack Park Agency, pursuant to appointments by three governors. He was elected to two four-year terms on the Tompkins County Legislature and served there from 2002 to late 2007 when he resigned to take his seat on the Adirondack Park Agency. Pursuant to an appointment by a fourth governor, he also served from 1991 to 1995 as a member of the New York State Low-level Radioactive Waste Siting Commission. In addition, he was elected three times to the City of Ithaca's Common Council (two four-year terms and one two-year term). His 10 years of service (1986-1996) on Common Council included six years as chair of the City's Budget and Administration Committee. He worked in the public sector before joining the Cornell faculty in 1977. From 1975 to 1977, he was a lawyer for the New York State Department of Environmental Conservation, rising to the position of assistant counsel dealing with land use affairs. Prior to that, he was a senior attorney with the New York State Adirondack Park Agency.
Roger Gray, Albany, NY: Roger Gray recently retired from a career working for the NYS Commission for the Blind. He also worked for a variety of other human service state agencies. He has been a longtime activist with the Sierra Club, coordinating its Adirondack Committee for a number of years. He has worked as a licensed Ski Instructor at Gore Mountain. He graduated from Hamilton College.
Peter O'Shea, Fine, NY: Mr. O'Shea is a retired Sergeant from the New York City Police Department, a well known Adirondack naturalist with four published books on wildlife and hiking in the Adirondacks. He also serves as Lay Minister of Saint Hubert's Church in Star Lake.
David Quinn, Saratoga Springs, NY: Mr. Quinn is Senior Vice President of The AYCO Company, which provides tax and investment services to corporate executives and other highly compensated individuals. Joining the board of its predecessor organization in 1999, he now serves PROTECT as its Treasurer. Dave's lifelong attachment to the Adirondacks was nurtured during youthful summers in the foothills near Croghan and Belfort, and today his outdoor activities include hiking and fishing in the Park.
Barbara Rottier, Vermontville, NY: Barbara Rottier is a retired attorney who worked for the NYS Department of Law, NYS Comptroller, and for more than 20 years as Staff Attorney with the Adirondack Park Agency. She is active in the greater Saranac Lake area where she is involved with numerous civic and political organizations.
Michael Wilson, Saranac Lake, NY: A retired college professor of cultural history, Dr. Wilson most recently collaborated over a decade to develop a field- based major in Environmental Studies of the Adirondacks at SUNY-Potsdam. Serving for over twenty years as Associate Director of Great Camp Sagamore, a National Historic Landmark in Raquette Lake, he has developed a public history program that interprets Great Camps in light of the Adirondack Park's unique conservation story. As a licensed Adirondack guide, Michael brought the first wood boats back to the whitewater of the upper Hudson River Gorge since the log-driving bateaus of the 30s. He values the opportunity actively to participate in PROTECT's principled advocacy for the ecological integrity of the special place where he lives, arguably the least understood, most important Park in the nation.
Directions to The View
View Arts Center
3273 NY-28, Old Forge, NY 13420
View is located just ½-mile north of the Town of Webb Information Center on Route 28 in Old Forge.