Climate Change
Climate change is the greatest environmental issue that we all face. Heavy use of fossil fuels is pumping unprecedented levels of carbon into the earth's atmosphere, which is resulting in a steady, gradual warming of the planet. The impacts of a warmer atmosphere produce dramatic changes to weather patterns around the world.
EPA Proposes Draft Clean Power Rule, the First National Greenhouse Gas Emission Reduction Program for the U.S.
The US Environmental Protection Agency (EPA) is holding a public hearing on proposed greenhouse gas emission reduction regulations for power plants. Known as the Clean Power Rule, this new program constitutes the first national rules that confront climate change. The proposed rules seek to reduce greenhouse gas emissions, mainly carbon dioxide (C02) emissions from coal-fired power plants, the largest single source of greenhouse gas emissions.
Protect the Adirondacks supports these new rules and encourages any one who cares about the Adirondack Park to support this historic action.
The EPA states: "In this action, the EPA is proposing emission guidelines for states to follow in developing plans to address greenhouse gas emissions from existing fossil fuel-fired electric generating units. Specifically, the EPA is proposing state-specific rate-based goals for carbon dioxide emissions from the power sector, as well as guidelines for states to follow in developing plans to achieve the state-specific goals. This rule, as proposed, would continue progress already underway to reduce carbon dioxide emissions from existing fossil fuel-fired power plants in the United States."
Click here for an EPA site for background information. See more resources and maps at the Center for Climate and Energy Solutions Carbon Pollution Standards Resource page.
What the Clean Power Rule will do
Under the Clean Power Rule, the EPA will impose new regulations for over 1,000 existing coal-fired power plants.  EPA estimates that 83% of greenhouse gas emissions are from carbon dioxide (C02) released into the atmosphere. As a group, these coal-fired power plants are the single largest sources of C02 pollution in the U.S., producing nearly 25%. These new rules expect to produce a 20% reduction in total U.S. C02 emissions by 2020 and 30% by 2030 (based on 2005 levels).
According to the EPA these are the basic facts. The making of electricity produces 32% of C02 emissions in the U.S. followed by the transportation sector at 28%, industry at 20%, commercial/residential at 10% and agriculture at 10%. The biggest fuel source used for the production of electricity is coal, which while it supplies 39% of electricity made, it produces 75% of CO2 emissions from the electricity sector. About 29% of electricity in 2012 was generated using natural gas, which has grown by the hydro-fracking boom, followed by 20% from nuclear and 12% from renewables. Coal-fired power plants are the single biggest "stationary source" of C02 pollution emissions as they produce fully 25% of U.S. C02 pollution.
Click here for more information on the Clean Power Program.
Clean Power Rule will End Acid Rain in the Adirondacks
One major benefit from steep cuts in coal-fired power plant emissions is that these cuts will result in further reductions to sulfur dioxide (S02) and nitrogen oxide (N0x) emissions, the chief substances in acid rain. Across the U.S. the cap-and-trade program started under the 1990 Clean Air Act amendments for So2 and N0x resulted in significant reductions in acid rain. Many once fishless lakes and ponds support fish life today. Projected cuts under the Clean Power Rule will end acid rain in the Adirondacks.
More background information on the Clean Power Rule
Longtime environmental leader Carl Pope writes about the Clean Power Rule. Here's an EPA Fact Sheet. The NRDC has a very good Summary of the EPA's Clean Power Plan.
How to Comment
Public comments can be mailed, emailed or faxed. Automatic comments can also be sent by using the form below. The deadline for public comments is October 16, 2014.
All comments must include the federal government docket ID No. EPA-HQ-OAR-2013-0602 in the subject line of the message.
By Mail:
Environmental Protection Agency
EPA Docket Center (EPA/DC), Mailcode 28221T
Attention Docket ID No. OAR–2013-0602
1200 Pennsylvania Avenue, NW.
Washington, DC 20460
By Email: A-and-R-Docket@epa.gov
By Fax: 202-566-9744.
The deadline for public comments is October 16, 2014.
Send the EPA an automatic letter by using the form below.
Background Information on Global Climate Change
Here are eight excellent sources of information and regular updates to stay abreast of climate change news and climate science:
NASA manages a terrific page, with constant real time data updates, on its Global Climate Change page.
See the Intergovernmental Panel on Climate Change for important updates on science from around the world.
National Oceanic and Atmospheric Administration National Climate Data Center is also great site for climate change information.
The U.S. Global Change Research Program is dedicated to comprehensive reporting.
The Guardian newspaper provides regular updates in Climate Consensus.
Bill Mckibben tweets important information every day that links to major news.
Climate Central is a terrific news site for current information about climate change.
Weather Underground's Climate Change page provides terrific reports.
The Trends are Clear
The charts below represent decades of scientific study from the leading institutions in the U.S. and around the world, including the National Aeronautics and Space Administration (NASA), National Oceanic Atmospheric Administration (NOAA), the Goddard Space Institute, the Commonwealth Scientific and Industrial Research Organisation (CSIRO), National Snow and Ice Datacenter (NSIDC). They show trends all depicting steady changes in climate patterns for the earth.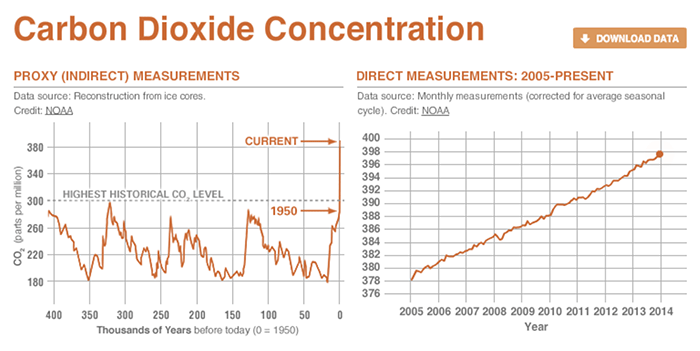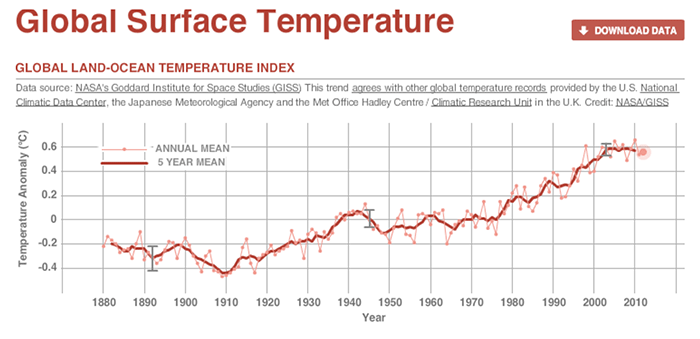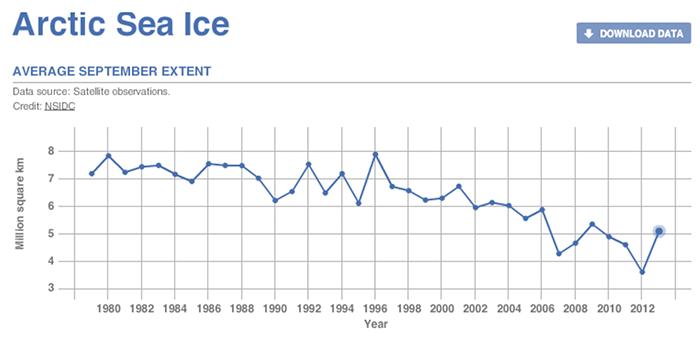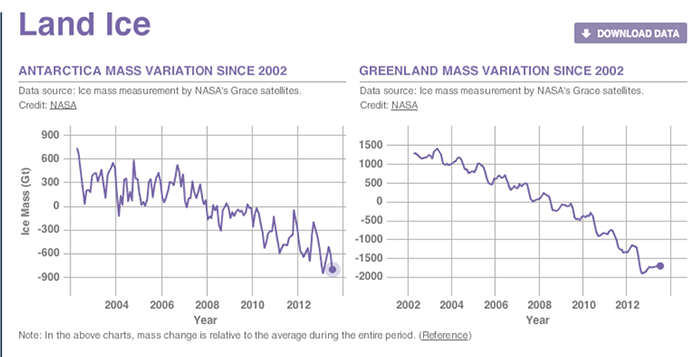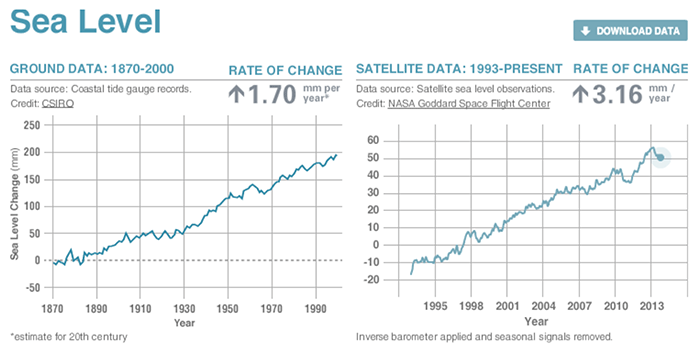 In addition to these charts, NASA produced an interactive map that shows the melting Arctic glaciers since 1980. This series of charts shows the significance of hitting the 400 parts per million mark of carbon in the earth's atmosphere. The mark was first hit in 2013. Leading scientist lays out the reality of climate change impacts and trends in Congressional testimony.
Resources for Climate Change and the Adirondack Park
For a closer look at the Adirondack Park see Curt Stager and Mary Thill's work for the Nature Conservancy Climate Change and the Champlain Basin: What natural resource managers can expect and do and Jerry Jenkins' (with the Wildlife Conservation Society) terrific study Climate Change in the Adirondacks. Other Adirondack climate change resources include Adirondack Climate and Energy Action Planning ADKCAP.
Curt Stager, of Paul Smith's College, also takes a long look into the future at the impacts of climate change with his book Deep Future: The Next 100,000 Years of Life on Earth. The New York Natural Heritage Program also published Vulnerability of At-risk Species to Climate Change in New York that details potential impacts to the most vulnerable species across the state and Adirondacks.
Climate Change News Highlights
Climate change denial myths busted here.
Major U.S. environmental groups urge President Obama to act on climate change.
The El Nino effect could be much more prevalent with climate warming.
Climate scientist to US Senate: 'Climate change is a clear and present danger'.
Leading climate scientist pens an op-ed about the politics of climate change denial.