Stewardship Process
The Process for Becoming a Forest Steward through the PROTECT's Adirondack Stewardship Program
1. State your goals for your forestlands.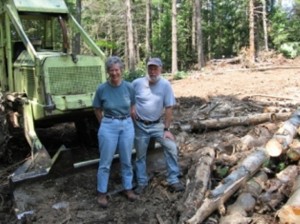 Write down your goals for your forest. You need to be specific and recognize that some goals preclude one another. Goals such as "improve wildlife habitat" are unattainable because they are too vague and because many species require habitats that exclude use by other species. Instead of generally improving wildlife habitat, one might want to improve the habitat of some species whose populations are declining. Having a forest management plan written for your property and having it implemented with the aid of a professional forester will help you attain your goals for your forest. A forester can administer your timber sales by marking the trees that should be removed in order to leave room for healthier trees instead of letting the logger select trees to be cut (the logger may be unaware of or unsympathetic towards your forest management goals). Employing the services of a professional forester will also help you attain the economic goals that you have for your forest by harvesting trees which are economically mature or are inhibiting the growth of more valuable trees. A forester can also assist you with enrolling in the state's preferential forest tax law (480-a) program. Some landowners become Forest Stewards as proof that they are practicing the highest standards of forestry. Other landowners because they are not practicing forestry on their lands and seek assurance that an effort to manage their lands will provide a result that meets their goals and objectives.
2. Take a walk through your forest with our forester.
The next step is to schedule a walk in your forest with our forester. This is a chance to discuss the management of your property according to your goals. If the landowner has been working with another forester, this other forester may also want to attend. If the landowner decides to become a Forest Steward the landowner should have a forest management plan written. This can be done with the assistance of our forester, who can provide detailed direction for selecting a private consulting forester. The preparation of a forest management plan is a crucial step, it embodies the goals you defined in the first step above and the process to achieve those goals. A working relationship between the landowner and a forester is very important and the selection of the forester should be done with care.
3. Prepare a forest management plan.
For forestland owners who decide to become a Forest Steward, the next step is to develop a management plan for the property. Preparing planning documents begins with discussing potential preliminary goals, then plotting the property boundaries on an aerial photo and delineating the different stands of trees (e.g., a northern hardwood stand, a spruce and fir swamp, a white pine and red oak stand). An inventory of the land is conducted to determine the condition of the forest, the tree species present, and the volumes and values of timber. An inventory system should gather environmental information such as geology, soils, water courses, natural communities, and wildlife habitat, as well as the traditional forestry data. After the inventory is complete, options can be explored and more permanent goals can be set. Goals address management issues such as aesthetics, ecology, wood growth, economics, water quality, and populations of plants and animals. Our forester will write plans, for a modest fee, for landowners generally having 100 acres or less. Our forester will work with forestland owners and their consulting foresters to put together management plans that meet strict principles and criteria.
4. As part of the forest management plan, field data for an inventory of the forest will be collected.
This inventory will be used to prepare a plan, which will provide direction for forest management activities for ten to fifteen years. For each stand of trees, there will be a description of the conditions, a recommended cutting system, also called a silvicultural system, and a timetable of work. Included in each plan will be a series of maps and informational charts. On an individual basis these plans can be developed to meet the standards of the Real Property Tax Law (480-a) Program and the U.S. Forest Service's Forest Stewardship Program, which are administered by the New York State Department of Environmental Conservation. The 480-a program provides significant property tax relief to private forest owners, with 50 or more contiguous acres of productive forest, who wish to manage their property for the production of wood. The Forest Stewardship Program provides financial assistance to non-industrial private forest (NIPF) owners for forest management projects, including the writing of forest management plans.
5. Enroll in PROTECT'S Sustainable Forestry Program.
Becoming a Forest Steward through PROTECT'S Sustainable Forestry Program will give you the opportunity to know and understand your land in ways you would have never imagined before. While preparing a detailed forestry management plan is not required it is highly recommended. The plan is the basis for successful management of your land regardless of your goals; timber production, wildlife habitat, esthetic enjoyment or just knowing that you are managing your land for future generations to enjoy.
You can read more about the Forest Stewardship program HERE.