Climate Change
Climate change is the greatest environmental issue that we all face. Heavy use of fossil fuels is pumping unprecedented levels of carbon into the earth's atmosphere, which is resulting in a steady, gradual warming of the planet. The impacts of a warmer atmosphere produce dramatic changes to weather patterns around the world.
Here are eight excellent sources of information and regular updates to stay abreast of climate change news and climate science:
NASA manages a terrific page, with constant real time data updates, on its Global Climate Change page.
See the Intergovernmental Panel on Climate Change for important updates on science from around the world.
National Oceanic and Atmospheric Administration National Climate Data Center is also great site for climate change information.
The U.S. Global Change Research Program is dedicated to comprehensive reporting.
The Guardian newspaper provides regular updates in Climate Consensus.
Bill Mckibben tweets important information every day that links to major news.
Climate Central is a terrific news site for current information about climate change.
Weather Underground's Climate Change page provides terrific reports.
The Trends are Clear
The charts below represent decades of scientific study from the leading institutions in the U.S. and around the world, including the National Aeronautics and Space Administration (NASA), National Oceanic Atmospheric Administration (NOAA), the Goddard Space Institute, the Commonwealth Scientific and Industrial Research Organisation (CSIRO), National Snow and Ice Datacenter (NSIDC). They show trends all depicting steady changes in climate patterns for the earth.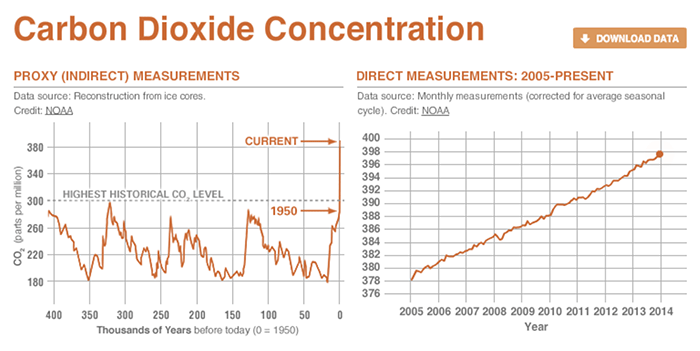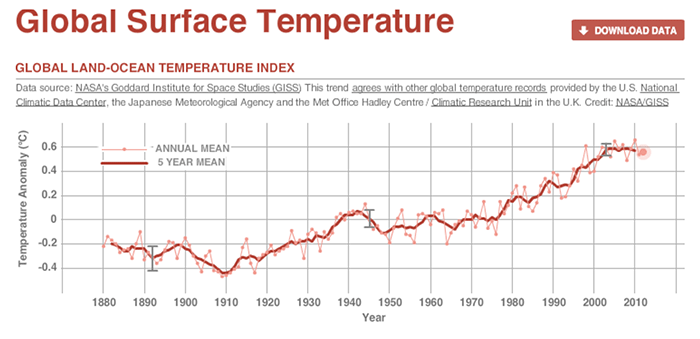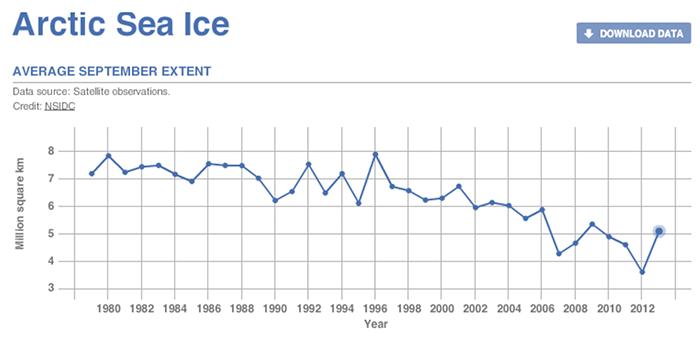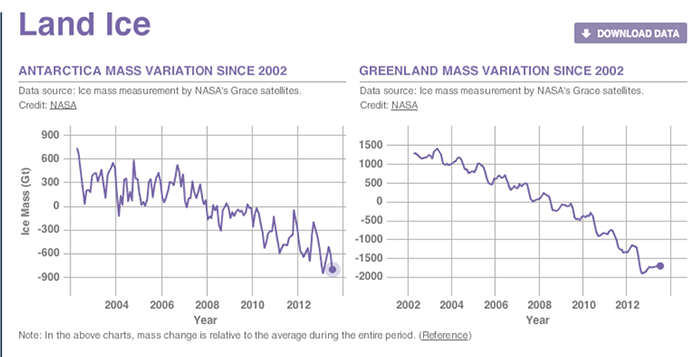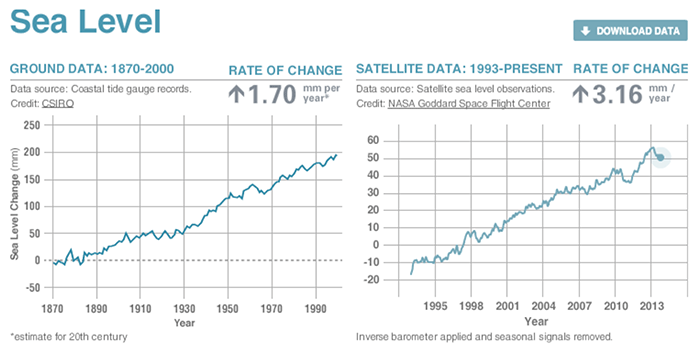 In addition to these charts, NASA produced an interactive map that shows the melting Arctic glaciers since 1980. This series of charts shows the significance of hitting the 400 parts per million mark of carbon in the earth's atmosphere. The mark was first hit in 2013. Leading scientist lays out the reality of climate change impacts and trends in Congressional testimony.
Resources for Climate Change and the Adirondack Park
For a closer look at the Adirondack Park see Curt Stager and Mary Thill's work for the Nature Conservancy Climate Change and the Champlain Basin: What natural resource managers can expect and do and Jerry Jenkins' (with the Wildlife Conservation Society) terrific study Climate Change in the Adirondacks. Other Adirondack climate change resources include Adirondack Climate and Energy Action Planning ADKCAP.
Curt Stager, of Paul Smith's College, also takes a long look into the future at the impacts of climate change with his book Deep Future: The Next 100,000 Years of Life on Earth. The New York Natural Heritage Program also published Vulnerability of At-risk Species to Climate Change in New York that details potential impacts to the most vulnerable species across the state and Adirondacks.
Climate Change News Highlights
Climate change denial myths busted here.
Major U.S. environmental groups urge President Obama to act on climate change.
The El Nino effect could be much more prevalent with climate warming.
Climate scientist to US Senate: 'Climate change is a clear and present danger'.
Leading climate scientist pens an op-ed about the politics of climate change denial.