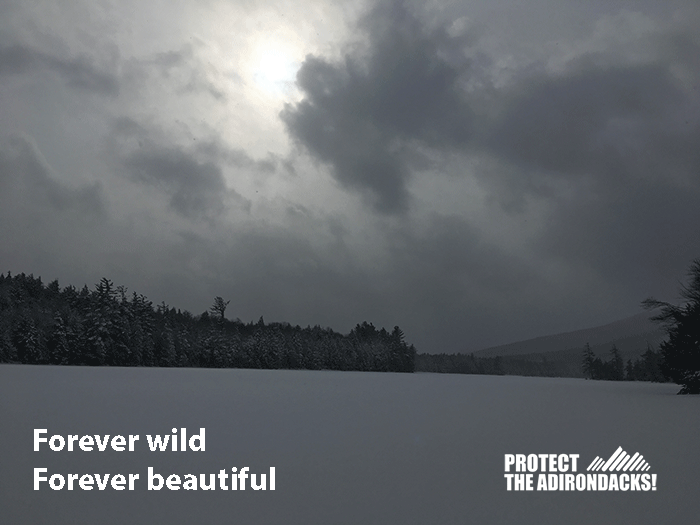 Protect the Adirondacks! (PROTECT) is a non-profit, grassroots membership organization dedicated to the protection and stewardship of the public and private lands of the Adirondack Park, and to building the health and diversity of its natural and human communities for the benefit of current and future generations. Protect the Adirondacks pursues this mission through grassroots organizing, advocacy, education, research, independent public oversight of state and local agencies, and legal action.
In recent years, our work has helped expand the High Peaks Wilderness area by over 25,000 acres, helped make the Boreas Ponds new motorless Wilderness area, and helped make the Essex Chain Lakes a new motorless Primitive Area. We worked to drive out a company that wanted to use un-used rail lines in the central Adirondacks for storage of out-of-service oil tanker railcars. We published a landmark report that compared long-term economic and population trends in the Adirondacks with other rural areas, and after a 6-year effort we won a major lawsuit that protects the people's land, the "forever wild" Forest Preserve. We organized a Canoe-In for a Motorless Weller Pond outside of Saranac Lake to press for more motorless waters in the Adirondacks. Protect the Adirondacks writes about the major issues facing the Adirondack Park in our Adirondack Issues Blog posts. We work out of a solar- and wind-powered headquarters outside of North Creek.
Protect the Adirondacks has earned a "Gold" level rating by Guidestar, which details levels of organizational transparency of non-profits.
For more information click own the links below:
Mission and Vision
Our Work
History
Successes
Board of Directors
Staff
Contact
Board of Director's Page (secure)
We encourage you to join with us as a member today! Click here to sign up.