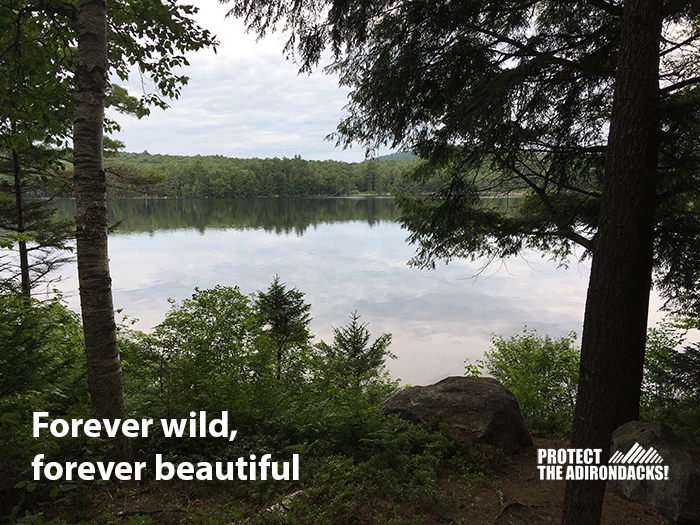 Mission Statement
Protect the Adirondacks! Inc. is a non-profit, grassroots membership organization dedicated to the protection and stewardship of the public and private lands of the Adirondack Park, and to building the health and diversity of its natural and human communities for the benefit of current and future generations.
Vision Statement
Protect the Adirondacks looks to a future in which the wild character, ecological integrity, and mutual well-being of the natural and human communities of the Adirondack Park are sustained by an underpinning of laws, policies, and programs that:
Permanently protect the Park's wildlands, native flora and fauna, waters, soils and air, and the open space and scenic character of the Park;
Defend the "Forever Wild" clause, Article XIV of the New York Constitution, and ensure that the Forest Preserve is managed accordingly.
Defend and expand the network of classified Wilderness lands of the Park.
Ensure that the Park's private lands are sustainably managed to conserve their productivity, economic viability, and open-space character.
Promote the development of local communities that are strong, diverse, and vital.
Promote the Adirondack Park as a global model of landscape-scale conservation in which strong protection of large, interconnected public wildlands are integrated with sustainably managed, economically viable, private farms and forests that are linked to healthy, diverse rural communities.
Protect, preserve, and enhance the wilderness character, ecological integrity, scenic resources, and appropriate recreational uses of the New York State Forest Preserve.
Conserve the wild, natural, open-space character and the viability of the private farms and forests of the Adirondack Park.
Undertake educational, research, scientific, investigative, philanthropic and charitable activities, grassroots organization, legal action, public advocacy, and work with the public and other organizations to achieve its mission.
Organizational Transparency
Protect the Adirondacks has earned a "Gold" level rating by Guidestar, which details levels of organizational transparency of non-profits.