Protect the Adirondacks believes that successful grassroots advocacy is based on a foundation of excellent research and policy analysis. Protect the Adirondacks has long led the way on research in the Adirondacks.
Protect the Adirondacks has set the standard for research in the Adirondack Park. As an organization we have invested heavily in research because we believe that science, facts, analysis and research should drive good public policy for a range of issues and challenges facing the Adirondack Park. Information should be a cornerstone for policy making in the Adirondacks for community development, Forest Preserve management, Adirondack Park management and natural resource protection.
The Adirondack Park and Rural America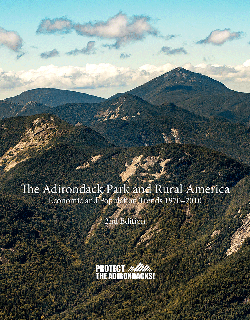 The Adirondack Park and Rural America: Economic and Population Trends 1970-2010 was recently published. The purpose of this report was to examine the belief, long held by many across the Adirondacks and in state government, that environmental protections have negatively impacted Adirondack communities. This argument holds that regulation of private land use and extensive land protection through purchases for the Forest Preserve or by conservation easement have hampered economic development. This, the argument goes, has forced people to leave the Adirondack Park in search of employment and a better life. Have these management efforts helped or harmed the Park's communities? To explore this question, this report presents analyses and comparisons of the economic and population experiences of the Adirondack Park with those of other rural areas.
Long-term economic and population trends of Adirondack communities, starting in 1970 and ending in 2010, were compared in this report. This period coincides with the establishment of regional land-use zoning and a period of sustained land protection. This report analyzes standard economic indicators, including median household income, per capita income, the poverty rate, and the rates of employment and self-employment. It looks at standard population indicators, including population growth, median age, and the ratio of children to adults of childbearing age. The report also examines age groups to compare the experiences of young adults of college age, career age adults, and retirees.
In all cases, we compare the experiences of Adirondack communities with those of New York State, the U.S., and Rural America. The period 1970 to 2010 was a period of stagnant economic growth across the U.S., as wages were flat, and economic and population growth were largely consolidated in major metropolitan areas. By 2010, 68% of the land area in the lower 48 U.S. states was categorized as rural, yet this area was home to just 14.9% of the country's population. Adirondack communities share a similar population density of around 14 people per square mile with rural communities that stretch across 61.4% of the lower 48 states, a vast but thinly populated landscape that is home to just 6.4% of the U.S. population.
If there were negative economic impacts from environmental protections in the Adirondack Park, the region would stand out as significantly different from other rural areas in trends for median household income, per capita income, poverty rate, and rates of employment and self-employment. Any negative trends due to environmental protection would be clearly evident over the past 40 years. Far from unique, the economic and population challenges facing the Adirondacks are the norm in Rural America.
The findings in this report are eye-opening. Far from unique, the economic and population experiences in the Adirondacks are the norm in Rural America. It must be recognized that when the conventional wisdom or popular narratives insist that socio-economic difficulties so common throughout Rural America are caused in the Adirondacks by environmental protections, the remedies most often proposed threaten the open-space character and ecological integrity of the Park. A more logical interpretation of this report's data would conclude that the comparative economic success of Adirondack communities is the consequence of environmental protections. In this perspective the test of effective economic development initiatives is the degree to which they enhance or at least complement, rather than degrade, environmental protections.
Click here to read the full report.
Investigations
In July 2015, PROTECT released a major investigation about what we believed constituted illegal lobbying by state government officials in the Cuomo Administration on behalf of a mining company. We compiled numerous documented that showed an extremely hand-and-glove working partnership between state agency leaders and staff and leaders and representatives of NYCO Minerals, Inc., to pass a constitutional amendment to trade public Forest Preserve lands with mining company lands so that the mine can expand into a Wilderness area. Predictably, the Cuomo Administration refused to investigate the actions of its agencies.
Click here to read a New York Times story that featured PROTECT's investigative work.
Proposal Five, amending Article XIV, Section 1, of the State Constitution was passed by New Yorkers on November 5, 2013. This was the closest vote on a Constitutional Amendment involving the Forest Preserve in over 50 years, passing by 53-47%, and over 1 million voted against it. The amendment authorized test drilling and mining activities ("mineral exploration") by NYCO Minerals, Inc., on 200 acres of State-owned Forest Preserve lands. If mineral reserves test high enough, NYCO will be able to purchase these lands from the State after approval by the Legislature.
Amendments of Article XIV have been rare. Since New York's Constitutional Convention in 1938, there have been just 15 successful amendments. The "forever wild" clause was drafted and proposed at the 1894 Constitutional Convention, the only provision adopted unanimously, approved by voters, and has remained unchanged ever since. Today, the Forest Preserve includes over 3 million acres in the Adirondacks and Catskills and is internationally recognized for natural resource protection of a large intact northern temperate forest landscape. It has provided innumerable outdoor recreational experiences to millions. The NYCO amendment marks the first time in State history where a Forest Preserve Constitutional Amendment was passed principally for the economic benefit of a private corporation.
Through documents obtained through the Freedom of Information Law, Protect the Adirondacks has found that the leadership of the Department of Environmental Conservation violated the Constitution during its advocacy for the passage of the NYCO amendment. From its initial draft of the amendment to final passage by the voters on November 5, 2013, DEC leadership advocated strenuously for and intervened at critical points to assist in the advancement and passage of this amendment. DEC improperly and illegally utilized all of the machinery of State Government to advocate for this amendment. DEC devoted hundreds of thousands of dollars, if not millions, in staff time to supporting the NYCO amendment.
The NYCO land swap has not been completed and PROTECT continues to use the information that we uncovered to educate the legislative leaders about the many problems and questions with this amendment.
Adirondack Lake Assessment Program
There are over 3,000 lakes in the Adirondack Park, with fewer than 200 being monitored on a regular basis. Monitoring is important for understanding how lakes change over time, and is particularly valuable for developed lakes. The continued enjoyment of these lakes by property owners and visitors is heavily dependent on water quality, as is the value of shoreline property. Lake monitoring helps protect this resource we value so much.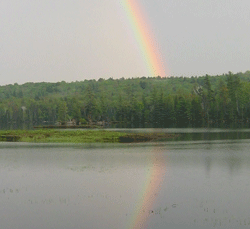 The Adirondack Lake Assessment Program (ALAP) was established in 1998 to provide water quality data to shoreowners and to develop a comprehensive, long-term database of water quality conditions in the Adirondack Park. 2019 marks the 22nd year of the program. There are over 65 lakes and ponds currently enrolled. ALAP is the largest volunteer-driven water quality monitoring program in the Adirondack Park, and is a partnership between Protect the Adirondacks and the Paul Smith's College Adirondack Watershed Institute (AWI), along with more than 200 volunteers across the Adirondacks. ALAP has successfully built one of the best long-term databases for lakes and ponds not only in New York, but in the northeast U.S.
The information collected as part of ALAP is used to identify causes of concern that may need action (e.g. faulty septic systems) and to conduct regional analysis to understand how various stressors that impact our waters. For example, ALAP data was used to assess the effects of road salting on lakes in a paper that formed the scientific basis for discussions with state and local officials on curbing the use of road salt to protect our environment. We're proud that this program has built a long-term scientific database that is being used to help inform pressing public issues in the Adirondacks.
Click here to read to 2018 report for the Adirondack Lake Assessment Program.
The Myth of Motorless Waters
The Adirondack Park is held up as the great wilderness area in the eastern United States. It's the place where people come for a wilderness experience and to enjoy the great outdoors. One great myth about the wild Adirondack Park is that there is an abundance of motor-free lakes and ponds. In fact, the Park faces a scarcity of quiet waters where one can paddle a canoe or kayak without interruption from motorboats, jet skis, floatplanes, and other types of motorized watercraft.
Click here to read the report The Myth of Quiet, Motor-Free Waters in the Adirondack Park.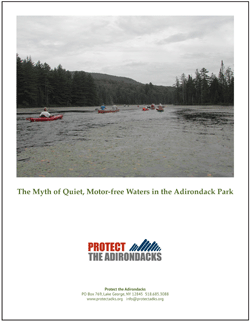 Of the 200 largest lakes and ponds in the Adirondack Park, from Lake Champlain, with 262,864 acres, to Round Pond in Indian Lake, covering 134.9 acres, the overwhelming majority of big lakes and ponds provide abundant opportunities for motorized watercraft— but scant opportunity for quiet, motor-free waters. Of the 100 biggest lakes in the Adirondack Park, 77 are open for all manner of motorized boating and floatplanes. 13 lakes are privately owned and provide no public access, and just 8 are motor-free. The reality is that more than 75% of the Park's grandest lakes are open for motorized activity while only 8% offer the motor-free option, and just 5% are easily accessible for a motor-free experience.
For those who desire greater motor-free opportunities, the numbers improve slightly in an analysis of the 200 biggest lakes in the Adirondack Park. 115 (57%) of the Park's 200 biggest lakes are open for motorized uses, 54 (27.5%) are privately-owned and thus closed, and 29 (14.5%) are open and motorless. However, of these 29 motor-free lakes, just 17 (9%) are easily accessible without long carries.
Across the Adirondack Park there are few genuine opportunities for motor-free boating on a big lake or pond. In the top 100 biggest lakes in the Adirondack Park, just five lakes stand out as lakes without motorboats, jetskis, and floatplanes; Lows Lake, Little Tupper Lake, Round Lake, Lake Lila, and St. Regis Pond. These lakes are all managed as motor-free waterbodies as parts of the Forest Preserve. Three other lakes, Cedar Lake in the West Canada Lakes Wilderness Area, Newcomb Lake in the High Peaks Wilderness, and Pharaoh Lake in the Pharaoh Lake Wilderness are also motor-free, but they are largely inaccessible for boating by the general public. These areas are great lakes to hike to, and extraordinarily beautiful places, but they are difficult to reach with a boat.
This analysis and report informed advocacy programs by Protect the Adirondacks for enhanced motorless opportunities.
Rutted and Ruined: ATV Damage on the Adirondack Forest Preserve
In 2003, Rutted and Ruined: ATV Damage on the Adirondack Forest Preserve was published, which documented extensive abuses on the Forest Preserve from All Terrain Vehicles (ATVs). In the 1990s, ATV use on the Forest Preserve was allowed. This was not done through a centralized plan, but rather through disparate regional actions. No policy assessment had been done and certainly no environmental impact assessment was completed. As a result scores of roads and trails were illegally opened in the Forest Preserve for public ATV use.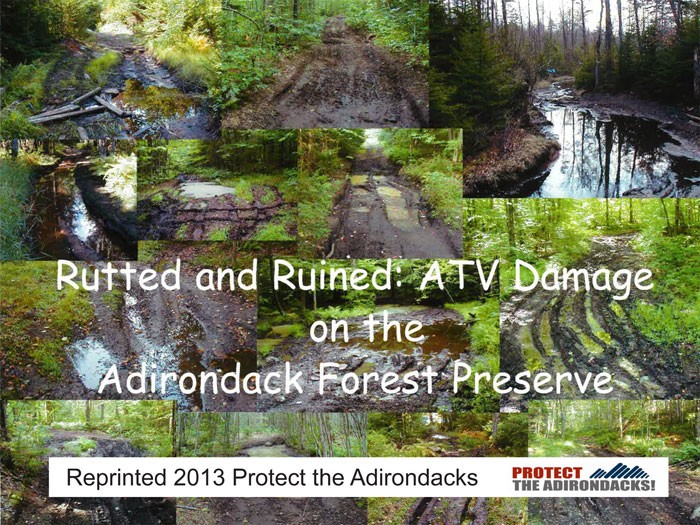 This report had a powerful impact and led to the closing of scores of roads on the Forest Preserve to ATVs. We're proud that our fieldwork and research shaped public policy and stopped widespread abuses of the Forest Preserve.
Rutted and Ruined: ATV Damage on the Adirondack Forest Preserve catalogued ATV abuse of roads, trails and natural resources on the Forest Preserve, but also showed the way that ATV riders use public lands that is different from other recreational uses. These findings included the following observations.
1. ATV use destroys road and trail surfaces and Forest Preserve facilities, such as bridges, and cause soil and wetlands damage in ways that other motor vehicles do not.
2. ATV use creates deep ruts and mud pits on roads and trails that become impassable. It seems that ATVs are often ridden for the backwoods riding experience where one can make the mud fly and tear up an area. This damage makes a road difficult to travel for all other users.
3. Roads and trails are widened by ATV users to avoid a damaged, impassable area, which causes further damage to the corridor's natural resources and wild character.
4. The wild forest character and the Forest Preserve experience are damaged by ATV use. Non-motor vehicle users that use the roads and trails damaged by ATVs find their Forest Preserve experience diminished as the roads are unattractive, deeply rutted, widened, and mud-filled swamps.
5. ATVs regularly leave designated roads to illegally blaze new trails through the Forest Preserve. ATV bushwhacking off roads is very destructive.
6. ATVs regularly trespass around gates and boulders that are erected to control motor vehicle traffic. ATVs can blaze trails through the forest to circumvent barriers in ways that other motor vehicles cannot.
7. ATVs regularly drive through streams, creeks and wetlands for sport rather than use bridges that provide motor vehicles with access over a stream, creek or wetland.
8. ATVs regularly trespass on snowmobile trails, designated roads that prohibit ATV use, and footpaths that intersect with roads. In short, ATV operators often go where they want.
9. ATV use has led to vandalism of Forest Preserve facilities, such as gates that control access.
Today, these impacts are particular to ATVs. ATV damage remains widespread across the Forest Preserve due to illegal trespasses. In many Wild Forest units illegal trespassing by ATVs is widespread.
There is no place for ATVs in the public Forest Preserve because they damage natural resources. The opening of roads in the Forest Preserve in the 1980s and 1990s to ATVs was an experiment that failed. The State of New York has invested heavily in purchasing over 750,000 acres of conservation easements in the Adirondack Park. These are managed timberlands with hundreds of miles of roads used by large trucks and heavy equipment. These road networks makes conservation easement lands suitable for ATV use. One of the reasons for state purchase of easement lands was to expand recreational opportunities that are not suitable for the Forest Preserve.
PROTECT continues to encourage the DEC to develop official rules and regulations that govern ATV use on all state lands. PROTECT is also pushing for statewide legislation to ban ATV use on the Forest Preserve.
Growth in the Adirondack Park
Another landmark report was a study of development rates and trends across the Adirondacks in the 1990s entitled Growth in the Adirondacks: Analysis of Rates and Patterns of Development 1990-1999. This report analyzed building permits issued by the 103 (in the 1990s) towns and villages in the Adirondack Park each year in the decade of the 1990s. We compared the amount of development regulated by local governments in the Adirondacks with the levels of development regulated by the Adirondack Park Agency (APA). This report found over 8,500 new residential, commercial and industrial structures in the Adirondack Park. The APA regulated around 30% of the new development in the Adirondacks.
This report helped to dispel incorrect narratives that no development can occur without a permit from the APA. This report found that two-thirds of all development in the Adirondacks was regulated unilaterally by local governments.
Protect the Adirondacks is currently working on an update to this report 2000-2019.
If you believe that solid research is an important part of the work of a grassroots environmental organization, then you should join Protect the Adirondacks and become a member today!