Whitney Park has been identified as the top land protection priority in New York for 50 Years. This is a major moment for the Cuomo Administration.
36,000-Acre Whitney Park is Up For Sale
The family of recently deceased Saratoga civic and philanthropic leader Mary Lou Whitney announced on August 29th that the 36,000-acre Whitney Park lands in the center of the Adirondack Park are now up for sale. John Hendrickson, the husband of Mary Lou Whitney, stated in the Wall Street Journal that his asking price is $180 million. Whitney Park is located in the Town of Long Lake, in Hamilton County. Hendrickson plans to market the property himself and stated to the press "I think $5,000 an acre is a bargain."
Whitney Park has been at the top of the land protection priority list of New York State for the last 50 years. The property was identified by the Temporary Study Commission in the late 1960s, the Commission on the Adirondacks in the Twenty-First Century in 1990, and in the New York State Open Space Plan for the last 25 years. The property includes 22 lakes and ponds, over 100 miles of undeveloped shoreline, and is the missing link to historic Adirondack canoe routes from the 19th century popularized by the travel writer George Washington Sears, who wrote under the pen name "Nessmuk."
Whitney Park is a gem that defies description in many ways. It's been the top of every list for the most important tract of private land in the Adirondacks. The intact forests and beauty and sheer number of lakes and ponds sets this property apart from all others. The Whitney family were marvelous stewards of the property for more than 100 years. Their commitment to the Adirondacks and environmental protection was clearly demonstrated by the protection of Little Tupper Lake in the 1990s.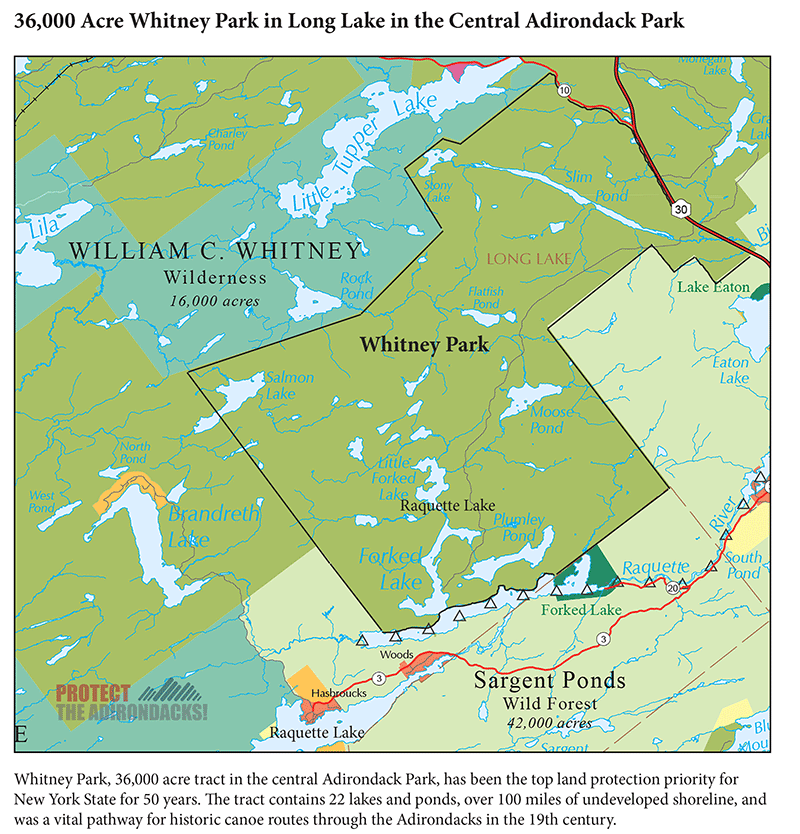 A major Challenge for the Cuomo Administration
This is a major moment for Governor Andrew Cuomo and Basil Seggos, the Commissioner of the Department of Environmental Conservation. The future of the Adirondack Park as a wild and protected landscape is on the line with whether or not Whitney Park is protected or it's changed in the future. The importance of Whitney Park for Adirondack Park and Forest Preserve cannot be understated. These are extraordinary times in the COVID-19 pandemic, but the sale of Whitney Park is a challenge that must be met.
The Success of Mary Lou Whitney's 1997 Sale of Little Tupper Lake
In 1997, Mary Lou Whitney and John Hendrickson sold the 15,000-acre tract around Little Tupper Lake to New York State. This deal was constructed by then Governor George Pataki. The Whitney family urged Governor Pataki to name the Little Tupper Lake tract the William C. Whitney Wilderness Area. Little Tupper Lake and Rock Lake have since been popular canoeing destinations for thousands.