PROTECT salutes the fine work of the Open Space Institute (OSI) to purchase and protect the historic Marion River Carry in the Town of Indian Lake, Hamilton County. OSI purchased over 250 acres on the north side of Route 28 that includes extensive lands on Utowana Lake, the entire .5-mile Marion River Carry, and more than 1.5 miles of the Marion River. This terrific deal is a major accomplishment for two reasons. First, it will ensure in the future that the carry that connects historic canoe routes (Old Forge to Blue Mountain Lake, and Blue Mountain Lake to Saranac Lake) will be maintained and public in perpetuity. Second, a 4-lot subdivision was approved by the Adirondack Park Agency (APA) for the west end of Utowana Lake, near the Carry, and this will now not happen.
Here's the OSI press release, an Adirondack Life article about the deal, and a piece in the Adirondack Almanack.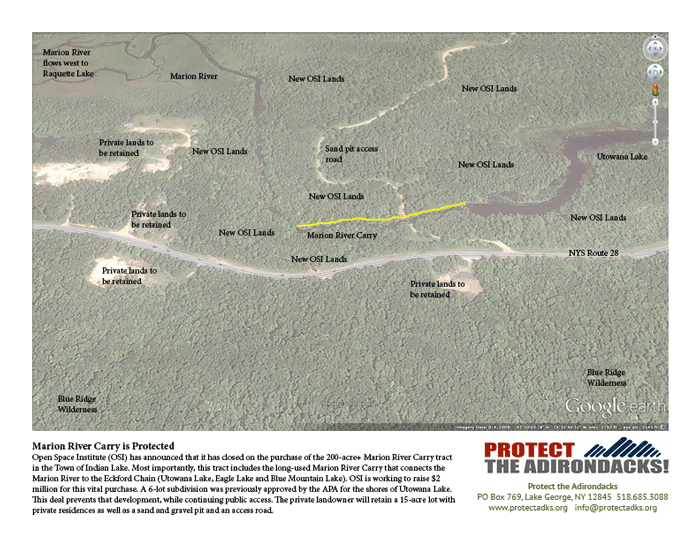 The private landowners, Dean and Donna Pohl of Raquette Lake, who also operate the W.W. Durant dinner cruise boat on Raquette Lake, will hold a 15-acre lot west of the Carry that includes houses and barns and some frontage on the Marion River. The Pohls also will continue to operate a 35-acre sand and gravel pit north of Route 28 and the Carry. The Pohls will also continue to hold over 200 acres on the south side of Route 28 surrounded by the Blue Ridge Wilderness Area (state Forest Preserve lands). Several small cabins are also independently owned right on Route 28 and these will remain.
Details of this conservation transaction were reported in Hamilton County Express. This follows a highly controversial subdivision permit that was approved by the APA in 2011. Many felt the APA dropped the ball and failed to assess the full range of impacts.
The historic Marion River Carry has been richly preserved in postcards, photographs and artwork. In the 19th century and until World War I, a short-track railroad operated on the Carry. Steamboats ferried visitors, as well as a variety of goods and stores, from the NY Central rail line to the Raquette Lake, across the lake and up the Marion River to the Marion River Railroad. The railroad transported people and goods .5 miles to another steamboat that made stops and deliveries to the private camps and hotels on the Eckford Chain — Utowana Lake, Eagle Lake, and Blue Mountain Lake. The railroad stopped operation after World War I, but remained in ruin until Harold Hochschild moved it (see right) to the Adirondack Museum. The whole carry operation is a central display at the museum and includes a replica of the Marion River depot, train engine and passenger cars. In the 1930s and 1940s area kids played on the dormant engine and tracks.