Protect the Adirondacks is pleased to announce that Judith Enck, the EPA Region 2 Administrator, will make a public presentation "Climate Change: The Challenge of Our Time" which features detailed information on recent federal actions for greenhouse gas and C02 emissions reductions. She will focus on what these actions mean for New York and the northeast U.S. Enck's presentation will start at 11:00 AM at the Great Camp Sagamore as part of Protect the Adirondacks' annual meeting. This presentation is open to the public.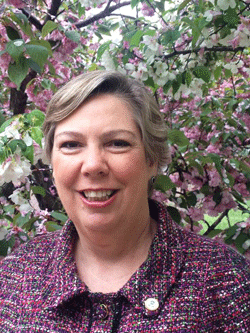 "The EPA's recent actions to reduce C02 emission from coal-fired power plants marks the first national action to reduce greenhouse gas emissions in U.S. history. EPA's action targets to largest single source of greenhouse gas emissions for reductions. We're very pleased that Judith Enck is making the trip to the Adirondacks to provide an overview of this major new initiative," said Chuck Clusen, Chair of Protect the Adirondacks.
In 2009, Judith Enck was appointed Regional Administrator of Region 2 of the U.S. Environmental Protection Agency (EPA) by President Barack Obama. Previously, Judith served as the Deputy Secretary for the Environment in the New York State Governor's Office and served for eight years as a policy advisor to the New York State Attorney General.
Judith Enck's presentation "Climate Change: the Challenge of Our Time" will focus on the EPA's recent release of new draft greenhouse gas emission reduction regulations for over 1,000 existing power plants. EPA estimates that 83% of greenhouse gas emissions are from carbon dioxide (C02) released into the atmosphere. As a group these coal-fired power plants are the single largest sources of C02 pollution in the U.S., producing nearly 25%. These new rules expect to produce a 20% reduction in C02 emissions by 2020 and 30% by 2030 (based on 2005 levels). The new program is partly modeled after the success of the 1990 Clean Air Act (CAA) amendments, which successfully inaugurated the cap-and-trade program for reducing national emissions of sulfur dioxide and nitrogen oxides, the two substances that cause acid rain.
As Region 2 Administrator, Judith's responsibilities are wide-ranging. In cooperation with state and regional authorities in New Jersey, New York, Puerto Rico, the U.S. Virgin Islands and eight federally recognized Indian Nations, she administers federal programs governing air and water pollution, industrial discharges, toxic substances, pesticides, protection of streams, lakes and the ocean, solid and hazardous wastes, the cleanup of chemical spills and abandoned hazardous waste sites, and much more. She has a staff of 900 and an annual budget of $700 million.
Prior to her work in government, Judith was one of New York's leading environmental advocates. She worked as a Senior Environmental Associate with the New York Public Interest Research Group (NYPIRG) and Executive Director of Environmental Advocates of New York, a non-profit government watchdog organization. She is a past President of Hudson River Sloop Clearwater, former Executive Director of the Non-Profit Resource Center and a designer of her town's recycling program. She worked with the New York State Legislature to pass a number of the state's most far reaching environmental laws including those addressing acid rain, toxics, pesticides, recycling, energy conservation and environmental funding. Judith's accomplishments have been recognized with professional awards from the Attorney General's Office, the Sierra Club, Center for Women in Government, Citizen Action, the Long Island Pine Barrens Society, the Rockefeller College of Public Affairs & Policy at the University of Albany and others.
Click here for directions to Great Camp Sagamore.