For Labor Day Weekend, Protect the Adirondacks Published Online Hiking Trail Guides for 50 Terrific Hikes Outside of the Over-Used High Peaks Wilderness.
Trails lead to great destinations including mountains, firetowers, waterfalls, bogs, and remote lakes outside of the heavily-used High Peaks Wilderness.
50 trail guides spotlight great hikes across the Adirondacks. Online guides include directions, maps, pictures, and information about "Leave No Trace" hiking etiquette.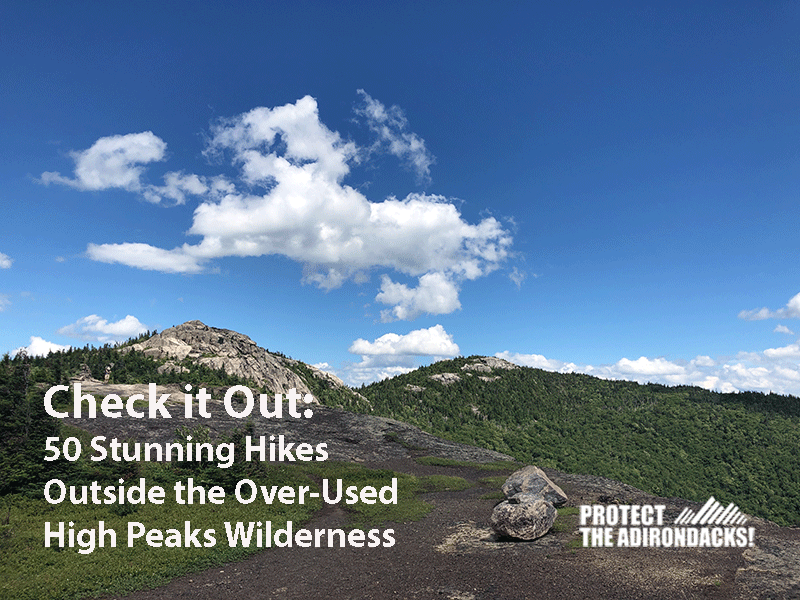 Labor Day weekend is one of the biggest hiking weekends in the Adirondacks each year. Many trailhead parking areas will fill up and the High Peaks Wilderness Area will likely see unprecedented crowds. In an effort to lessen the flow of thousands to the High Peaks Wilderness, Protect the Adirondacks has published online trail guides to 50 terrific destinations throughout the Adirondack Park in areas outside of the busy and over-used High Peaks Wilderness Area. These trail guides are available now.
The online trail guides includes description of hikes, pictures, and maps. They also include information about the trail length and difficulty as well as education about "Leave No Trace" hiking etiquette to protect the natural resources of an area as well as the experiences for other hikers. The pictures showcase the stunning beauty of these areas. Guides have been published for trails across 10 counties in the Adirondac
Click here to check out the 50 online trail guides.
"These 50 destinations showcase dozens of terrific hikes for people of all ages and abilities to mountains, firetowers, bogs, remote lakes, and waterfalls. These are wonderful places, many off the beaten path, that are far outside the busy High Peaks Wilderness. Getting a parking spot to the hike of your choice is a crapshoot in the High Peaks. These other places offer high quality Adirondack Park outdoor experiences," said Peter Bauer, Executive Director of Protect the Adirondacks.
"We left off the list a number of hikes in places that have been overwhelmed this summer and are seeing numbers and parking problems that rival the High Peaks. Places like Kane Mountain in Caroga, or a number of the Lake George mountains, like Shelving Rock, Cat Mountain, and Thomas Mountain, or Bald Mountain in Old Forge, were all left off the list because they're seeing overuse challenges and we did not want to create more problems" said Peter Bauer.
While public agencies and local governments have urged visitors to the High Peaks to seek out adventures in other parts of the Forest Preserve and the Adirondack Park, there has not been one place for visitors to get good information about other places to explore. The 50 online trail guides that Protect the Adirondacks has published for Labor Day 2020 will be expanded to 100 guides by the end of the year. These trail guides provide visitors with all the information they need to have a great hike in the Adirondack Park. Trails are organized by county in the northern Adirondacks, central Adirondacks, western Adirondacks, and southern Adirondacks.
"Hiking is the easiest outdoor activity for a person to undertake. That's why it's so popular. As long as somebody can get to the trailhead, it's a highly accessible activity. Unlike canoeing or skiing or mountainclimbing or mountainbiking there is little special equipment or skills that someone needs to have a safe and rewarding hiking experience. We're hoping that these online trail guides, which we'll keep working to update and expand to spotlight more places across the Adirondacks, will help individuals and families to plan out great and safe trips to stunningly beautiful destinations beyond the High Peaks in other places all across the Adirondacks," said Peter Bauer.
Featured hikes include mountains in the northern Adirondacks, such as Lyon Mountain, Catamount Mountain, Silver Lake Mountain, Debar Mountain, Loon Lake Mountain, St. Regis Mountain, Azure Mountain, Mt. Arab, Floodwood Mountain, Poke-O-Moonshine, Jay Mountain, Cobble Lookout, McKenzie Mountain, and Split Rock Mountain. In the southern Adirondacks guides were published for Sleeping Beauty Mountain, Five Mile Mountain, Spruce Mountain, and Hadley Mountain.
In the central Adirondacks online guides were created for hikes to Goodman Mountain, Coney Mountain, Goodnow Mountain, Moxham Mountain, Vanderwhacker Mountain, Owls Head Mountain (Long Lake), Mud Pond Mountain on the Cedarlands conservation easement, Severance Mountain, Treadway Mountain, Blue Mountain, Chimney Mountain, Echo Cliffs, Pillsbury Mountain, Sawyer Mountain, Snowy Mountain, Wakely Mountain, Balm of Gilead Mountain, Crane Mountain, Peaked Mountain, Bartonville Mountain, and Pharaoh Mountain. In the western Adirondacks Stillwater Mountain is featured.
Online guides include waterfalls, like Tenant Falls and OK Slip Falls and lakes like Sagamore Lake and Cascade Pond. Featured hikes also include Bloomingdale Bog, Silver Lake Bog, and Ferd's Bog.
Click here to check out the 50 online trail guides.
"By publishing these first 50 online trail guides, Protect the Adirondacks is trying to promote other wonderful places across the Adirondacks beyond the congested and hammered High Peaks Wilderness. For too long, public use has been concentrated in the High Peaks and this effort is our part to try and promote other sweet spots that visitors and residents should explore in the Adirondacks," said Peter Bauer.
Protect the Adirondacks has completed its field work and is working to publish another 50 trail guides by the end of 2020 that showcase the wide range of hiking opportunities across the Adirondack Park outside of the High Peaks Wilderness.