Protect the Adirondacks published an op-ed in the Plattsburgh Press Republican titled "Let Freedom Ring in Essex County." This op-ed called on the Board of Supervisors to rescind its support for the vicious editorial published and then retracted by Denton Publications.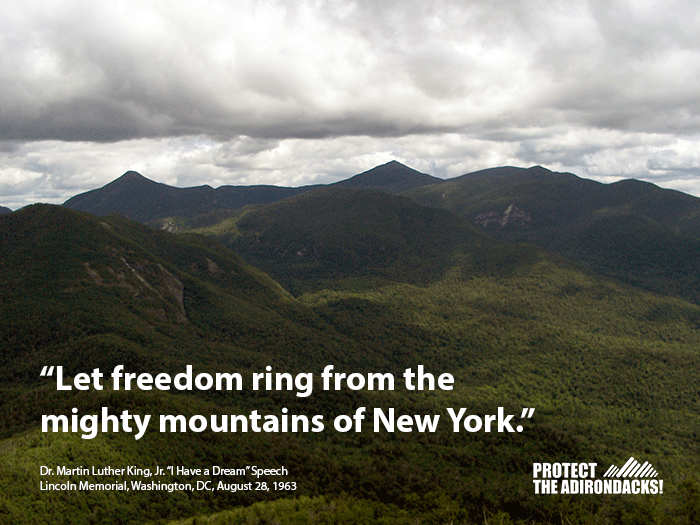 Let Freedom Ring in Essex County
Essex County is home to the tallest mountains in New York. It was these great mountains that Dr. Martin Luther King, Jr., evoked in closing his legendary "I Have a Dream" speech, in August 1963: "Let freedom ring from the mighty mountains of New York." We should be proud that our mighty mountains were forever enshrined in this great speech.
In the weeks leading up to Martin Luther King Day this year, Essex County became notable as place where freedom did not ring when Denton Publications of Elizabethtown and the Essex County Board of Supervisors called for the silencing of voices with whom they did not agree.
On Christmas Eve, Denton Publications published an editorial that called on Adirondack media outlets to join with them to refuse to publish anything about Protect the Adirondacks. Denton argued we should be silenced and abolished. This editorial was a stunning because it was a naked call for censorship by a newspaper. Thankfully, the editorial was widely denounced, and no other media supported it.
Denton Publications was quick to retract this editorial. They publicly apologized to Protect the Adirondacks and announced reforms for how they will editorialize in the future. They stated that their editorial was unfair. This was a laudable moment of public reflection and humility.
While Denton Publications was reversing course, the Essex County Board of Supervisors joined the fray and passed a resolution in support of the withdrawn editorial. While it was strange to read the original, indefensible newspaper editorial calling for curbs to our right for free speech, it was even stranger to read that publicly elected officials had embraced it.
The United States Constitution and the New York State Constitution guarantee the citizens' right to freedom of speech. As a part of their oath of office, each Town Supervisor pledged to uphold both constitutions. Yet, in a unanimous vote, the Essex County Board of Supervisors voted to silence and abolish Protect the Adirondacks, a clear effort to silence our right to free speech.
The chief complaint of the Essex County Board of Supervisors was a lawsuit that Protect the Adirondacks brought against the Adirondack Park Agency (APA) to challenge its approval of the Adirondack Club & Resort project. Yet the members of the Essex County Board of Supervisors are no strangers to lawsuits. In 2008, the Essex County Board of Supervisors joined an unsuccessful lawsuit to challenge new shoreline regulations enacted by the APA. After a negative decision, the Board of Supervisors made an appeal, which the courts rejected.
The Essex County Board of Supervisors' decision to go to court against APA regulations it opposed in 2008 was the appropriate means to resolve this controversy. Modern American civil society has been framed by decisions from lawsuits. This is a major means by which conflicts are resolved in the United States. The courts are open to private individuals and private organizations as much as they are to government bodies.
Protect the Adirondacks has deep roots in Essex County. We have hundreds of members throughout the county. Of our 18 Board members, five live in Essex County full-time, two have long operated businesses there, and six own property and pay taxes in Essex County. Protect the Adirondacks is also involved in projects throughout the county.
We hope that the Essex County Board of Supervisors shows the same good judgment shown by Denton Publications and renounces its attacks on free speech and free expression.