Protect the Adirondacks cheers the state's purchase of 8,451 acres of new Forest Preserve lands. This marks the completion of phase 2 of the 69,000 acres of former Finch Paper lands being transferred to the state from The Nature Conservancy (TNC). This new purchase includes a range of smaller tracts in the southern Adirondack Park. In 2012, Governor Cuomo committed to purchase these new lands for the Forest Preserve. In 2010, the state bought conservation easements on over 95,000 acres of former Finch Paper lands around Newcomb and Indian Lake. The state will pay $5.7 million for these lands, about $674 per acre.
The state is buying the former Finch lands from TNC for $48 million in five stages. This purchase marks completion of the second phase. The first involved purchase of over 23,000 acres around the Essex Chain Lakes and Hudson River.
See reports in the Adirondack Daily Enterprise and on the Adirondack Almanack.
The largest tract is the 3,280 acre tract Benson tract that is surrounded by parcels in the Shaker Mountain Wild Forest. See a map below.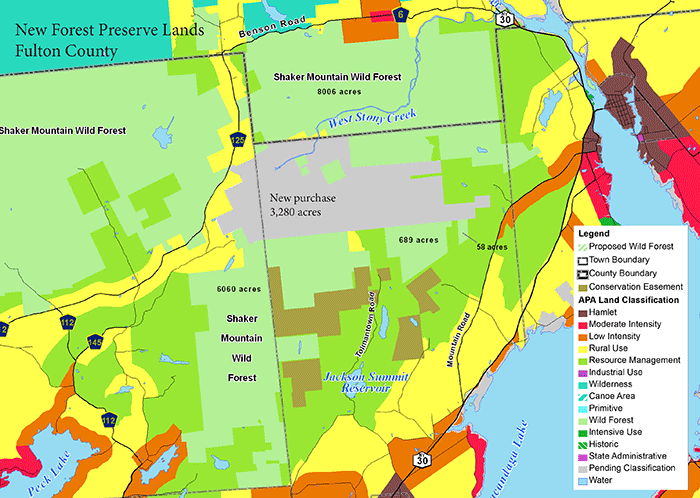 Here's a map of the entire 69,000 acres of Finch lands provided by the NYSDEC.