Last fall, the Roedel Companies purchased the historic Hotel Saranac. The Hotel Saranac has long dominated the skyline of Saranac Lake and for decades was owned and operated by Paul Smith's College where it was a cornerstone of the community. A private owner operated the hotel for the past seven years before closing it pending the sale.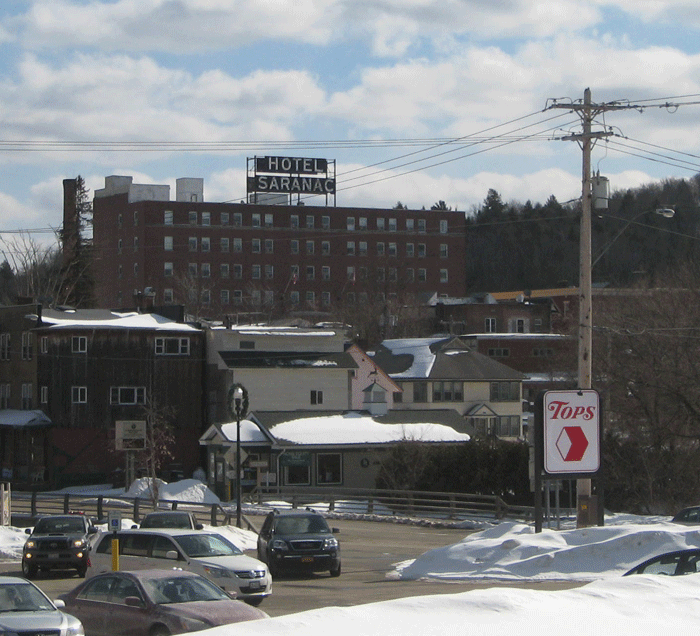 The Roedel Company announced that it plans a top-to-bottom restoration of this iconic building. The company was approved for a package of $5 million in state economic development and historic preservation grants and tax abatements.
The Hotel Saranac project is largely a renovation and restoration of the existing landmark building. It's a long distance from either Lake Flower or the Saranac River. As such, there are no major or controversial environmental issues. It needs various local permits, but not a permit from the Adirondack Park Agency (APA).
In addition to a major renovation of the hotel, the new owners should include some serious stormwater upgrades. The site provides opportunities for capture and infiltration devices and various Low Impact Development techniques. The only significant environmental issue for Roedel Companies is to improve stormwater management. A green roof should be investigated. Energy efficiency should also be a hallmark of this project.
Protect the Adirondacks applauds this major investment and vision by the Roedel Companies. This project will be an enormous benefit to the Saranac Lake community.
The company has created a website to keep the public informed on its renovation work.