A grassroots effort to provide quality goods at a reasonable price will help to sustain Saranac Lake as a small Adirondack town.
After the Ames Department Store closed in 2002 residents had to drive outside of the Park to Plattsburgh or Malone to meet many of their shopping needs. When Wal-Mart wanted to build a superstore in Saranac Lake, some enterprising citizens recognized how a superstore would forever change the character of their town and would adversely affect their local businesses. A coalition of residents was formed to look for alternative ways to fulfill their needs.
The interim-board of enterprising residents developed a business plan for a for-profit department store, selling $100 shares to raise over $500,000. The Community Store opened in a remodeled building in downtown Saranac Lake in November 2011. The 600 New York State residents who purchased the 50,000 shares invested in not only a store but in the community, keeping their corner of the Adirondack Park self-reliant, not dependent upon undue outside influence. Locally based services support each other. In Saranac Lake there are still many specialty retail stores, two medium sized grocery stores, a thriving health-food store, and numerous drug and hardware stores. How many of these would still be in existence if a superstore had been built just down the road?
See pictures below of the Community Store: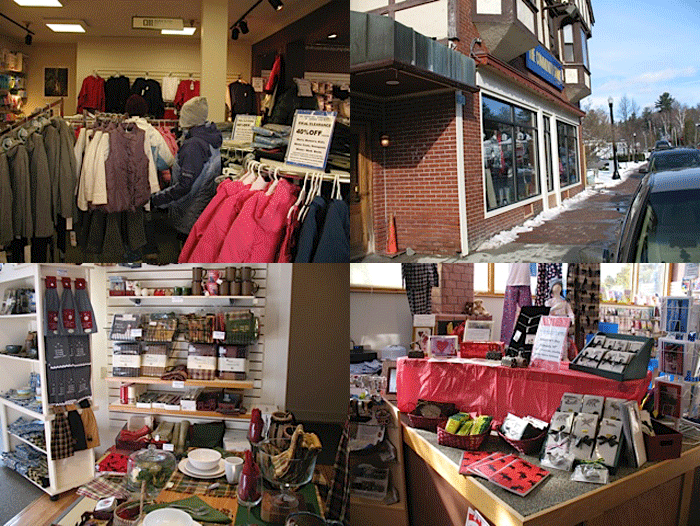 The Community Store is run like a regular retail business encountering some of the same challenges facing other stores in small town America. With its growing but small population of 5,406 people, Saranac Lake is not a big enough community yet to sustain the Store on its own, so The Community Store must find innovative ways to reach customers across the Tri-Lakes Region. "Establishing The Community Store was a grassroots effort that involved selling one share at a time. And continuing to build the customer base requires a similar, grassroots approach," says Melinda Little, President of The Community Store.
In general, synergy with neighboring communities is a necessity to keep communities in the Adirondacks sustainable. When I come to Saranac Lake from Keene I often stop in the Store, at times just to visit, but then discover that they carry items I was thinking of buying elsewhere. For example, last fall I had planned to drive to Plattsburgh for placemats and a pillow. To my delight the Store had a good selection of both items.
The store strives to serve a broad demographic. "In our case", stated Store manager Craig Waters, "over the course of a year we / I have recognized that there are specific merchandise categories that are not working – although they were high on the "we need" list. Here is an example of one success and one failure. A woman from Long Island bought two items in the Store she couldn't find in New York City–a plain leather belt and Carhart clothing. Another woman from North Creek could not find plain white cotton socks.
Waters also stated "It has become very apparent that by our name alone – The Community Store – we have people believe that we are a "coop", a "private shopping club", which is not open to everyone, etc. We embrace the name, but we need to better explain who we are exactly and what we have to offer to everyone. Like with any good company, the process of identifying who you are and who your target audience is – this is an ongoing process. Social media and networking is helpful, can be a good start, but reaches only a fraction of your overall market. Networking is important and can be invaluable. The basic 'grassroots' strategy at the end of the day is necessary and important. Connecting with social groups, community calendar sites, chambers, schools, churches and businesses is basic and can be rewarding at the end of the day."
Local elected leaders can help. For example, Saranac Lake Mayor Clyde Rabideau, in a February 14, 2013 presentation to the Adirondack Park Agency, cited the Community Store, along with the Adirondack Carousel, as drivers for bringing pedestrian traffic to the downtown, thereby helping other businesses.
Becoming a destination in its own right is a goal for the Community Store (www.community-store.org), just like Nori's Village Market in Saranac Lake (norisvillagemarket.com), which serves as a shopping source for many looking for whole foods and natural products. Also think of Hoss's Country Corner in Long Lake (www.hossscountrycorner.com), the Mountaineer in Keene Valley (www.mountaineer.com), and the Old Forge Hardware in Old Forge (www.oldforgehardware.com).
About the author. A resident of Keene, Lorraine Duvall is a Vice Chair of Protect the Adirondacks, is active on the town planning board and was a Board Member of the Community Store of Saranac Lake during its formative years. Lorraine enjoys paddling the quiet waters of the Adirondack lakes and rivers, and just being in the woods. Her varied civic and environmental endeavors have helped her to understand and to respect the different perspectives of the varying constituents who live and visit here, now, and for generations to come – all the while knowing we must protect the environment for the long term and not destroy our heritage for short-term gains.