February 1, 1938 – June 16, 2017
John Robert Collins Jr. died on June 16, 2017 at his home in Blue Mountain Lake, surrounded by his family. John dearly loved his life in the Adirondacks, where he had deep roots. His ancestors farmed in Chestertown and North Creek after emigrating from Ireland. His grandparents were caretakers at the Great Camp Sagamore for the Vanderbilt family and his parents, John Sr. and Helen, ran the family resort, The Hedges in Blue Mountain Lake, for nearly 50 years.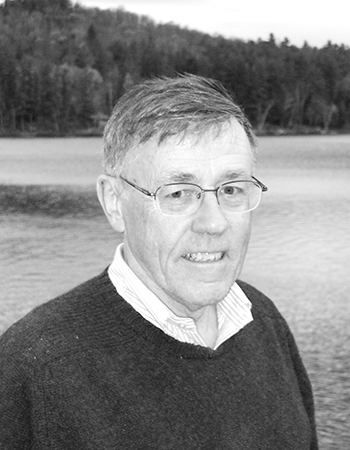 John was born on Feb. 1, 1938. He and his older sister Barbara and younger brother Michael were raised at The Hedges, where he spent many summers working at the family business. He attended elementary school in a one-room schoolhouse in Blue Mountain Lake. He graduated from Indian Lake Central School in 1955 and then served in the Army until 1959, where he spent three years working with anti-aircraft guns and Honest John missiles, the last two years in Europe.
John graduated from Manhattan College with a B.A. in history in 1964. There, he thoroughly enjoyed and valued his Jesuit education, loved New York City and made lifelong friends. He then began teaching the sixth grade in Rome, New York, where he found working with children truly rewarding and decided to make teaching his profession. He enrolled in graduate school at SUNY New Paltz to earn his teaching certification. John taught at Leptondale Elementary School in Wallkill, Chestertown Central School, and then for 26 years taught the fifth grade at Long Lake Central School, where he was beloved as "Mr. C." When it was his turn to advise the senior class and plan the senior trip, John and Ellen took the students abroad to London and Paris.
In 1966, John married Ellen C. Callaghan, who had come to The Hedges for a summer job and with whom he celebrated 50 years of marriage in 2016. They have two daughters, Cathleen and Sarah. Cathleen Collins and her husband, Peter Bauer, live in Blue Mountain Lake with their two sons, Jake and Andy. Sarah Collins and her husband, Charles Giordano, live in Brooklyn with their daughter, Lena.
John believed in service to his community and worked to protect the things he cherished. He served on the Indian Lake Town Planning Board starting in 1968, and served as its chairman for nearly a decade. He served as a member, and then president, of the Board of Trustees of the Adirondack Lakes Center for the Arts in Blue Mountain Lake. He served on the school board of Indian Lake Central School for five years. In 1984, John was appointed to the Adirondack Park Agency Board by Gov. Mario Cuomo. He served until 1995 with his last three years as APA chairman.
John was a founder of the Residents' Committee to Protect the Adirondacks in 1991, which worked to protect the Adirondack Park. He also served as a trustee of the Northern Forest Center, which works to create jobs, leverage investment and conserve forests for community benefit in the northern regions of New York, Vermont, New Hampshire and Maine.
John served the Adirondack Museum in many capacities, initially as a board trustee beginning in 1991, then as acting director in 2001, director in 2002 and honorary trustee in 2005. John served as a trustee of the Bruce L. Crary Foundation, which grants money to Adirondack students to assist with college expenses.
While John's interest in protecting wild spaces ranged to the Atlantic, his true love was Blue Mountain Lake, the heart of the Adirondacks. After retiring from teaching, he continued to put in full weeks working outside as a jack-of-all-trades with his pick-up truck for his family and friends and volunteering his time, patience and expertise to a number of local organizations and community projects. John was a longtime officer of the Blue Mountain Lake Association and a key member of Blue Mountain Lake Water Watch. His ability to cheerfully reconcile a wide range of viewpoints and personalities served him well in his work, his public service and his large extended family.
John and Ellen were always happy to get out on the water or into the woods. They enjoyed many hikes, canoe and cross-country ski trips. In the last years of his life, John spent his winters splitting and stacking firewood and his summers driving and maintaining his wooden launch. He saved time every day for a crossword, The New York Times and some Netflix, often from a chair in front of a crackling fire. John's home was always open to visitors, friends and family, where he and Ellen happily hosted many big and delicious dinners, followed by long conversations and an occasional penny poker game.
For many years, John and Ellen lived with John's mother Helen in Blue Mountain Lake. John and Ellen cared for her until her death at home in 2001. John is survived by his loving wife, Ellen; devoted daughters, Cathleen (Peter) and Sarah (Charles); and adoring grandchildren, Jake, Andy and Lena; and his older sister, Barbara. John was predeceased by his brother Michael in 1961. John had six nieces and nephews and 13 first cousins, who grew during his life into dozens of families of "cousins," most of whom return to vacation in Blue Mountain Lake each year.
When John was diagnosed with terminal lung cancer, he told his family and friends, "I have had a very good life — great parents and family, great wife, great children, jobs that I liked, and a wonderful environment to live in. I have no regrets." John and his family were deeply moved by the many emails, notes and visits from people who told "Johnny" how he had touched their lives. John was deeply loved and admired and will be sorely missed.
Calling hours will be held from 4 to 7 p.m. Friday, June 23, at the Miller Funeral Home, 6357 state Route 30, Indian Lake.
A celebration of John's life will be held at 11:30 a.m. Saturday June 24, at the Adirondack Museum Auditorium in Blue Mountain Lake, and a reception will follow from 1 to 4 p.m. at the Adirondack Hotel in Long Lake.
In lieu of flowers, donations can be made to Protect The Adirondacks, the Adirondack Lakes Center for the Arts or High Peaks Hospice.