After a large 85-pound canid was shot by a hunter in Otsego County in December 2021, the Department of Environmental Conservation (DEC) announced that the animal was a coyote.  Despite possessing wolf-like size and physical characteristics—and the hunter's own belief that he had mistakenly shot a wolf—DEC claimed that a DNA analysis showed that the animal was just a large coyote and cited the DNA study in its press comments. Mike Lynch at the Adirondack Explorer reported in July 2022 that DEC had a DNA analysis that showed the Cooperstown wolf was "closely identified as an Eastern coyote, with a mix of coyote, wolf, and dog genetics." WTEN News 10 in Albany reported the story with a quote from Lori Severino, a DEC spokesperson, saying "Initial DNA analysis conducted determined the wild canid to be most closely identified as an eastern coyote."
Though requested to by environmental groups and the media, DEC refused to release its DNA study to the public. Protect the Adirondacks and other groups and media outlets were forced to request access to the study under the Freedom of Information Law. Although the Freedom of Information request was submitted in July 2022, DEC responded that the study would not be provided until October 2022 at the earliest. DEC never explained why it could not release this critical scientific data sooner.
In the meantime, two independent DNA tests were commissioned by Protect the Adirondacks and other organizations. The two independent DNA tests documented that the "coyote" was indeed a wolf, with a genetic makeup of approximately 98% wolf genes. (See the first DNA study here and the second DNA study here.) After these studies were released to the public, DEC finally conceded that the wolf was in fact a wolf. Remarkably, when DEC at long last released its own DNA test, the results showed that the "coyote" had a genetic composition that was majority wolf.
Though DEC was forced to concede that the animal was a wolf, the Department claimed that it was likely an escaped captive wolf and had tests performed to verify that claim. However, on March 13th, DEC announced in a Facebook post that the wolf was indeed a wild wolf and not an escaped captive wolf. Here's the DEC post:
DEC scientists use a variety of tools to study New York's animals. The discovery of a wolf killed in Otsego County in December 2021 presented our experts with an interesting opportunity to advance their work.

DEC and the New York State Museum analyzed elements in the wolf's hair, bone, and teeth and concluded the wolf was eating a wild diet.

Based on the principle 'you are what you eat,' the carbon and nitrogen isotopes found in an animal's fur and bones can show the type of diet an animal has had throughout its life. Canines (doglike animals) raised in captivity often eat a diet consisting of commercial dog food or grain-fed livestock and have different isotope ratios than a canine eating a wild diet.

Although very rare, a few wolves have been documented in New York. Some of these animals were later determined to be escaped or intentionally released captive animals.

Gray wolves are protected under both the federal Endangered Species Act and New York's endangered and threatened species regulations. [Click here to] see DEC's issued guidance to hunters and trappers illustrating the differences between coyotes and wolves and to avoid harvesting large canines that may be wolves.
This has been a tortured episode for DEC and underscores how reluctant the Department is to acknowledge the presence of wild wolves in New York State. Indeed, although wolves are protected under both federal and New York State law, in 2019 DEC proposed eliminating all legal protections for wolves in the State even though at that time there had already been documented instances of wolves being killed in New York in 2001 and 2005.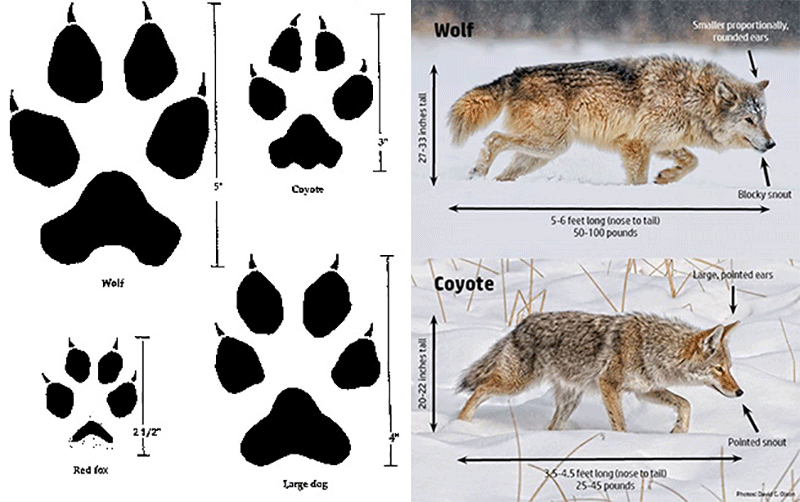 It is a positive development that DEC has apparently turned a page and is now willing to provide more information to the public about wolves in the State. However, the Department needs to do more to educate hunters and trappers (and the general public) about the presence of wolves in the State and to assist them in identifying wolves from coyotes. In addition, because wolves can be mistaken for large coyotes, DEC should consider reforms to how it manages the State's coyote population.
Some of the coyote management reforms that are needed to protect wolves include:
The coyote hunting season should be reformed. Currently, it's a 6-month season with 24 hour a day hunting, with no daily or seasonal bag limits. Hunters can kill as many coyotes as they please.
As part of the coyote season reform, all wild canids taken in the state should be checked and tagged.
Wild canids that are taken that have a weight greater than 50 pounds or that meet additional criteria established by the Department should be subjected to a DNA analysis. Tests that show a large canid is a wolf should be investigated to see if other wolves remain in the area where the animal was killed.
Coyote hunting should be for a season of no longer than ninety days, and the hunting of coyotes by night should be prohibited. The Department should establish bag limits for coyotes and shall establish size limitations for the taking of coyotes.
DEC should modify its hunting and trapping training curriculum to include educational information concerning the presence of wolves in the state, the legal protections for wolves, the checking and tagging requirements for wild canids, and how to distinguish a wolf from a coyote when a hunter or trapper is in the field.
DEC needs to solicit information from the public about wolf sightings in New York State and investigate reported wolf sightings.
The next wolf that wanders into New York should be protected, not allowed to be accidentally killed.