The US Census released its first cut at the 2020 decennial census last week. This data is limited, delivered for the purpose of redistricting for statewide and federal elected representatives. Much more detailed data will be released to the public at the end of September with population data at the town and county level. In 2022, we'll get more data on age and race as well as economic data.
The big news is that New York State gained population at a rate of 4.2% from 2010 to 2020, topping 20 million residents for the first time in the state's history. In 2020, New York State residents totaled 20,201,249, up from 19,378,102 in 2010, a gain of 823,147 new residents.
The limited US Census data released so far tells us a few things that are important for the Adirondack Park and New York. For instance, of New York's 62 counties, US Census data provided tells us that 23 counties saw modest population gains, while 39 counties saw losses. The 10 Downstate counties in the lower Hudson Valley (Orange, Rockland, Westchester), New York City (New York, Richmond, Bronx, Queens, Kings), and the Long Island (Nassau, Suffolk) all gained, reaping 828,352 new residents between them. The five counties in New York City gained 628,682 new residents.
While New York State gained 823,147 people, the 10 downstate counties gained some 828,352 new residents, exceeding the state's overall growth. That means that in the 52 counties spread through Upstate New York, there was a total net loss of over 5,000 residents from 2010 to 2020. Throughout Upstate, 13 counties saw population gains and 39 experienced losses. As a region, Upstate New York was basically flat with regards to population growth, whereas New York City and Downstate saw significant gains.
In the Adirondacks, as mentioned above, we do not yet have town data, just county data, which doesn't tell us a lot. Saratoga County, Hamilton, and Warren County all gained, though Warren was basically flat. Nine other Adirondack Park counties lost population. The 12 Adirondack Park counties together had 1,013,109 residents in 2020, down from 1,020,422 in 2010, a loss of 7,313 or -0.07%. It's important to note that of the 1 million residents who live in the 12 Adirondack Park counties, somewhere around 130,000 live within the Adirondack Park Blue Line, while nearly 90% live outside the Park.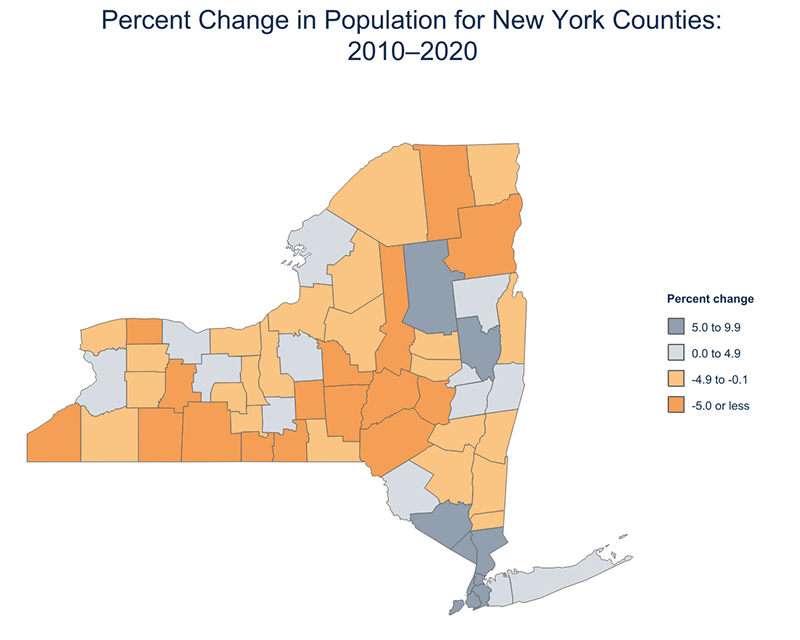 As the chart at the end shows, Saratoga County gained over 15,000 people, while Hamilton gained 271 and Warren gained just 30. The biggest drops among Adirondack counties were Franklin and Herkimer counties, each of which saw losses of more than 4,000 people. One note of caution is that the prison population in New York State has sharply decreased in recent years and the Census counts inmates as residents in the community where they are imprisoned. The 12 Adirondack Park counties are home to a number of state and federal prisons, so there needs to be some adjustments for the prison population changes in these numbers. Nevertheless, a regional loss of -0.07%, some 7,300 people out of 1.013 million, is basically flat.
The Hamilton County population rose each decade from 1950 to 2000, growing by 31% overall, largely tracking the national rural population growth of the baby-boom generation and their offspring. Hamilton County dropped by -10% in 2010. The 5,107 resident 2020 population number, while up from 4,836 in 2010, is well below the county's all-time high of 5,379 in 2000 and 5,279 in 1990. The 271 new residents is not a big number, but it goes to show that in a thinly populated place like the Adirondack Park small numbers can have a big impact.
Essex County, like Hamilton County, is 100% within the Blue Line. Essex County saw a -5.1% drop, from 39,370 to 37,381 residents from 2010 to 2020. Essex County has two large prisons and one small prison, which have seen decreasing inmate populations, which may have effected the total county numbers. We have Freedom of Information requests pending for Adirondack prison populations. Essex County had a population of 34,631 in 1970 and grew to its high of 39,370 in 2010. Its current population is larger than its 1980 population of 36,176 and similar to its 1990 population of 37,152.
Warren County, of course, is split by the Blue Line, with big chunks of Lake Luzerne and Queensbury outside the Adirondack Park, as is all of the City of Glens Falls. The 2020 Warren County population of 65,737 is the county's all-time population high. It's up 30 people from the 2010 US Census number of 65,707 residents.
Across New York State, the news about reinvigoration of Upstate cities would appear to be supported in the new Census numbers. The three Capitol District counties of Schenectady, Albany and Rensselaer (Troy) all gained in low single digits, recruiting nearly 16,000 new residents between them. Erie County, which includes the City of Buffalo, dropped from 1.113 million in 1970 to a low of 919,000 in 2010, but bounced back to over 954,000 in 2020. Monroe County, which includes the City of Rochester, added over 15,000 people and Onondaga, which includes the City of Syracuse, added over 9,400 residents. Tompkins, Jefferson, Sullivan, and Ontario were the other Upstate counties that grew.
New York City gained over 600,000 people and the 10 Downstate counties saw over 800,000 new residents. Upstate was basically flat. This population shift will certainly create issues in how state Assembly and Senate seats and federal Congressional seats are redrawn for the 2022 election. For instance, the math says that roughly six Assembly seats will shift from Upstate to Downstate. New York is set to lose one congressional seat, but redrawing the state's congressional map with one less seat is compounded by the growth in the state's population downstate. Over 13.4 million of the state's 20 million residents live in the 10 downstate counties.
The town-level data that will be released by the US Census next month will tell us a lot more about trends across Adirondack Park communities. The initial data released tells us a lot about population trends across New York State, especially relative to Upstate and Downstate. Though Schoharie County came close, with a -9.2% loss, there were no double-digit drops across Upstate counties, and many were relatively flat. The growth of Upstate counties with major cities, like Buffalo, Albany, Rochester and Syracuse, also confirms larger national trends in the U.S. of growing metropolitan areas and shrinking rural areas.