It's nearing peak fall colors in the Adirondack Park. There are many places to see the leaves as mountainsides and valleys turn bright orange, yellow, and red. Protect the Adirondacks has put together hiking guides to 25 hikes that are easy, moderate, and challenging, but lead to terrific locations to see the fall colors in all corners of the Adirondack Park. These guides include maps, information about hiking conditions, and pictures.
This list (see online hiking guides below) includes short, easy hikes of 1 mile or so, such as Azure Mountain, north of Paul Smith's, Coney Mountain outside of Tupper Lake, Cook Mountain in Ticonderoga, Balm of Gilead outside of North Creek, the Bloomingdale Bog outside of Saranac Lake, Cobble Lookout in Wilmington, or Black Bear Mountain near Inlet and Old Forge in the western Adirondacks.
Moderate hikes of 2 to 4 miles include Poke-O-Moonshine, Catamount Mountain and Silver Lake Mountain south of Plattsburgh, Haystack Mountain outside of Lake Placid, Owl Head Lookout near Elizabethtown, Goodnow Mountain in Newcomb, Moxham Mountain in Minerva, Hadley Mountain outside of Lake Luzerne, Five Mile Mountain north of Bolton Landing, or Owls Head Mountain in Long Lake.
Longer, more challenging hikes that top five miles to great fall color viewing sites include Lyon Mountain north of Plattsburgh, Jay Mountain outside of Keene, St. Regis Mountain outside of Paul Smith's, Snowy Mountain south of Indian Lake, or Pillsbury Mountain north of Speculator.
All of these hikes will reward hikers with wonderful views of the fall colors throughout the Adirondack Park.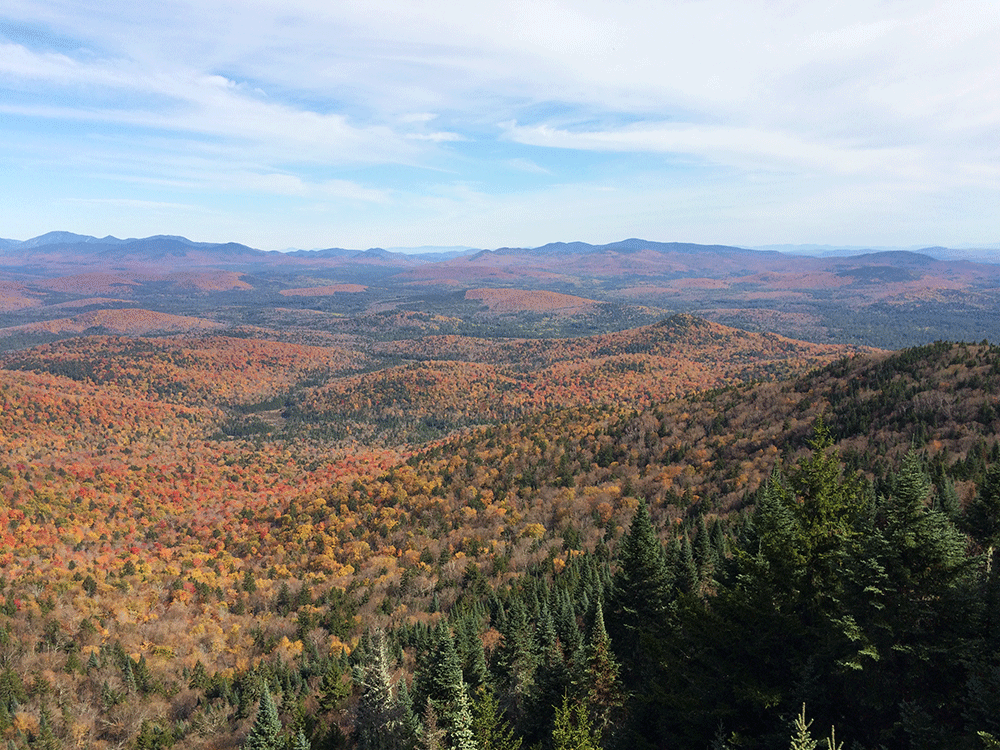 Northern Adirondacks
When You Hike Make Sure to Practice "Leave No Trace" to be Prepared and to Protect the Forest Preserve
Please follow "carry in, carry out" rules for all trash and follow other Leave No Trace principles when hiking in the public Forest Preserve and other wild areas. The seven Leave No Trace principles are: 1) Plan ahead and prepare; 2) Stay on hiking trails and camp at designated areas; 3) Dispose of human waste and trash properly; 4) Leave what you find; 5) Minimize campfires; 6) Respect wildlife; 7) Respect other hikers.
Educated hikers do not damage the environment.
Prepared hikers do not need search and rescue unless injured.