2022 was a full and challenging year, which kept us working week-in and week-out, all through the year. Protect the Adirondacks was active in all corners of The Adirondack Park, advocating for stronger protections for the Forest Preserve and waters. Below we list out the highlights of a busy year.
New York State Releases Final State Climate Action Plan
In 2019, New York State passed the monumental Climate Leadership and Community Protection Act (CLCPA), the first major piece of climate change legislation in New York history. This legislation requires the New York Climate Action Council to develop a plan for the state to reach 40% reductions in greenhouse gas (GHG) emissions, as measured by 1990 levels, by 2030, and 85% below 1990 levels by 2050. This is a massive goal that will require major changes across the state. In early 2022, the Climate Action Council produced a draft scoping plan, which outlined a number of options for a comprehensive statewide plan. PROTECT rallied its members to submit comments. A final draft plan has just been released.
We pushed for greater support to help families in New York transition to carbon free energy by making residential solar, geothermal heat, and heat pumps more affordable. We need to do more as a state to provide incentives through tax credits and grants so that we can boost rooftop or backyard solar production and convert to alternative heating systems. New York will not be able to meet its goals without incentivizing widespread use of solar panels, geothermal systems, and heat pumps.
Another major piece of the CLCPA is the requirement that state agencies in New York assess GHG emissions when issuing "permits, licenses, and other administrative approvals and decisions," in order to determine whether such actions "will be inconsistent with or will interfere with the attainment of the statewide [GHG] emission limits." To date, unfortunately, The Adirondack Park Agency (APA) has failed to consider climate change impacts and GHG emissions when it reviews proposed development projects. This needs to change.
One example of the APA's failure to consider climate change impacts in its regulatory work is its review of new subdivisions consisting of new houses, roads, and forest clearing. For example, a proposed new 120-unit development in Jay includes up to 20 townhomes, each 1,800 square feet in size; up to 60 villas, each 3,500 square feet in size; up to 18 estates, each 6,500 square feet in size; up to 6 mansions, each 10,000 square feet in size; and a hotel, restaurant and spa. Overwhelmingly, these buildings will be vacation homes, fueled year-round, but often standing empty.
Scientists have calculated that construction of a single 2,060-square-foot house creates a four-ton carbon debt. Given the size and number of new homes proposed in this project, it will likely create a carbon debt of hundreds of tons. In addition, clearing one acre of forest creates a carbon debt of 257 tons. Given that a substantial amount of forest clearing is proposed by the applicant for the purpose of new home and road construction, this activity will result in additional thousands of tons of carbon debt. No amount of solar panels or heat pumps associated with this project will recoup the GHG pollution it will cause.
It is high time that the full impacts of climate change are evaluated in land use decisions in the Adirondack Park. The CLCPA is crystal clear in imposing a duty on "all state agencies," which includes the APA, to evaluate the GHG emissions" when "considering and issuing permits." The APA issues several hundred permits each year, yet has failed to consider the climate change impacts of those permits.
PROTECT provided the Climate Action Council with many ideas for how forest protection and forest management could be improved in the state to help meet climate change goals. We also provided many ideas for how regulation of land use and development in New York needs to evaluate carbon pollution.
New York's first state climate change plan follows the first national action with the Inflation Reduction Act passed in the summer of 2022. For the first time in our history there is movement and important US and NYS action on climate change. This work will be a top priority in 2023 and beyond.
Defending the "Forever Wild" Forest Preserve
Protect the Adirondacks worked on an array of projects to defend the wildness of the Forest Preserve and balance public recreational use in 2022. This is always a difficult juggling act, but we rely upon the "forever wild" protections for the Forest Preserve in the State Constitution and management laws and policies for guidance. We always demand that management actions are made in a public and transparent manner, which has been difficult in the past for state management agencies, though they changed course somewhat in 2022.
Over the last year, Protect the Adirondacks has been in the thick of policy reforms and discussions around Forest Preserve management and natural resource protection in the Adirondack Park. Our successful legal challenge to uphold the "forever wild" protections in Article 14 of the State constitution, decided by the state's highest court in 2021, has forced changes and revealed the need for widescale reforms in Forest Preserve management by the Department of Environmental Conservation (DEC) and the Adirondack Park Agency (APA).
Forest Preserve Trails Stewardship Working Group: One positive sign is the formation of the Forest Preserve Trails Stewardship Working Group at the end of 2021. This group was organized by the DEC and APA at the end of 2021, in response to our court victory, for the purpose of revising the state's trails system. PROTECT's 2021 legal victory forced the state to reform how it manages public trails on the Forest Preserve. Environmental groups, local government leaders, and trail builders from the Adirondack and Catskill Parks were recruited to help state agencies develop new trail design and maintenance standards for a series of trails on the Forest Preserve, from hiking to mountainbiking to cross-country skiing to snowmobiling, among other activities.
Progress has been meager at the Working Group, but slowly nuts-and-bolts work is being completed. The Working Group has gone on three field trips to assess trail conditions. At one field trip in the Catskills to look at the new Red Hill Firetower Trail, PROTECT was the only group member that showed outside of DEC staff as none of the other environmental groups, local government leaders, and trail builder groups showed up. Attendance was better at the other field trips.
The group is working through revising how Work Plans are organized for trail work. The DEC plans to hold public hearings on these drafts in early 2023. The group is also working on basic mission and vision statements, which may or may not be subject to public review. Policies around tree cutting and motor vehicle use also need to be revised, which are top priorities for PROTECT. The ultimate goal is a new trails manual that details the best management practices for trail building and maintenance on the Forest Preserve.
PROTECT has emphasized throughout that state agencies must uphold Article 14 in all aspects of their management of the Forest Preserve. This has been a hard concept for state agencies that in the past seldom questioned the constitutionality of their work. The timeframe of the Working Group has been extended into 2023. 
Visitor Use Management Comes to the Adirondacks: Another bright spot, and potentially a vital building block for Forest Preserve management reform, is the decision by the DEC to get outside professional help to develop prototype Visitor Use Management (VUM) programs for part of the busy and popular High Peaks Wilderness Area in the Adirondacks and the Kaaterskills Falls area in the Catskills. VUM is a proactive  and adaptive process that provides a framework for managing public recreational use in a variety of settings and natural resource conditions. It's meant to encourage public access to public lands, be flexible and iterative, to experiment, and to utilize active scientific monitoring of natural resource conditions and public use experiences. The goal is to make outdoor recreational tourism and visitation sustainable and beneficial for the natural resources of a specific protected area. VUM practices are designed to manage high public recreational use in a sensitive area in a way that sustains, if not enhances, that area's natural or cultural resources. PROTECT has advocated for the use of VUM practices in the Adirondacks for years.
The National Park Service has used VUM programs for years in National Parks. These programs have evolved over the years and have been widely replicated by other federal agencies and at the state level. A VUM plan for part of the High Peaks Wilderness will be put together in 2023-24. PROTECT will actively monitor this effort. Click here for more information.
Upholding Forever Wild: During the winter of 2021-22, the DEC managed Class II Snowmobile Trails trails as if there had been no judgement by the state's highest court finding that these 34 miles of extra-wide Class II snowmobile trails violated Article 14 of the State constitution. The court stated that these trails were "constitutionally forbidden." The 12-mile Seventh Lake Mountain Trail in the Moose River Plains, the state's showcase Class II trail, was groomed and used for snowmobiles last winter despite being found illegal by the courts. Other illegal trails were also operated as if nothing had happened and it was business as usual.
When questioned about this at a state budget hearing, DEC Commissioner Basil Seggos misrepresented what was going on, telling legislators that the department had fully complied with the court's decision, despite the fact that snowmobiles were at that very moment driving on these illegal trails.
Here's the question and answer from the February 1, 2022 budget hearing:
Assembly Conservation Committee Chairman Steven Englebright asked "In May of 2021, the Court of Appeals found that the DEC and the Adirondack Park Agency approval of certain snowmobile trails construction was unconstitutional. What is the status of these trails? Are they being restored as per the logical follow through on the court decision and are they open for use in their modified form?"
DEC Commissioner Basil Seggos replied"Certainly any of the trails that would have been started pursuant to that historic plan went to a grinding halt when we saw that the subject was brought before the court. Any of the trails that are being used now are the ones that are historic in nature, of course, and predate the litigation, and we have not added any more trails in the Adirondacks."
Seggos's answer was false and misleading and followed more than six months of stonewalling by the DEC in 2021 to deal with the realities of the court's decision. PROTECT was forced to go back to court in early 2022 in an effort to compel the DEC and APA to comply with the constraints on trail building for motorized uses imposed by Article 14. A judge urged the two sides to work out a settlement and negotiations ran through most of 2022, but failed to reach and agreement as the state refused to close illegal Class II trails. The state argued that the court decision prohibited them from building new trails, but it was free to continue to operate existing Class II trails. PROTECT sees the DEC's position as fanciful.
At the end of December, PROTECT went back to court to get the state to obey the courts. PROTECT is pushing for the closure of these illegal trails, with limited exceptions, to snowmobiles and motor vehicles. We believe these trails should be converted to other uses, and restored to hiking trail widths, or abandoned and reforested. We believe that the courts' decisions merit policy changes to Forest Preserve management.
Illegal Road in a Wilderness Area: A very strange thing happened in the fall of 2021 in the High Peaks Wilderness Area. The DEC brought heavy equipment into the High Peaks Wilderness to refurbish a road that its work crews had spent two years dismantling. The DEC rebuilt nearly one mile of an old logging road in the Dudley Brook area of the MacIntyre East section of the High Peaks Wilderness. These lands were purchased as part of the 2018 Boreas Ponds deal. PROTECT's investigation brought this issue to light.
DEC had worked in 2019 and 2020 to tear apart this former logging road, and many others, in this former timber tract in an effort to expedite the restoration of these logging roads to a more natural wild forest setting. No coherent explanation was provided by the DEC as to why it rebuilt this road, other than saying it was correcting a massive mistake that somehow its leaders in Albany had failed to notice for two years. 
These explanations did not add up. This episode was one of the strangest things we've seen in Forest Preserve management at the DEC in the last two decades. PROTECT worked to shine a spotlight on this fiasco throughout 2022 and returned in the fall to assess the condition of this area after one year.
Unfortunately, the APA refused to investigate this matter. It sent no staff to assess the DEC's work to rebuild the road. Click here to read a letter from PROTECT urging the APA to fully investigate this illegal road. Click here for more information on this issue.
Given that the APA has refused to investigate the reconstruction of an illegal road in a Wilderness Area, PROTECT is now investigating legal options.
State Seeks More Miles of Roads in the Forest Preserve: In early 2022, the APA-DEC embarked on an effort to formally "interpret" a section of the State Land Master Plan to allow for greater mileage of roads in the Forest Preserve. Current interpretations capped road mileage, but state agencies are seeking ways to authorize many more miles of roads. A public hearing was held in the summer and a decision is expected this fall or early in 2023. PROTECT rallied several hundred comment letters opposing the state's expansive interpretation. Click here to read PROTECT's comment letter. Click here for more information.
At this point, it appears that state agencies are committed to expanding the road network in the Forest Preserve. PROTECT will continue to monitor this issue and intervene where we can. We anticipate a final decision by the APA in early 2023, which may involve an additional public hearing.
Sustainable Trails: The new sustainable trail to the summit of Mount Van Hoevenberg was completed in 2022 and great progress was made on the new trail to the summits of Cascade and Porter Mountains. These trails are constructed with a wilderness ethos and designed to accommodate heavy use while requiring little maintenance. These trails represent a big step forward in Forest Preserve management and stewardship in the Adirondack Forest Preserve.
The Clean Air, Clean Water and Green Jobs Bond Act Wins Big on Election Day
The most popular thing on the ballot on Election Day in New York State was helping to protect the environment and fighting climate change. Turns out that protecting the environment and fighting against climate change is good politics.
The Clean Air, Clean Water, and Green Jobs $4.2 Billion Bond Act won big on November 8th across New York. The Bond Act racked up nearly 68% of the vote, as Bond Act supporters who voted "yes" more than doubled opponents who voted "no." With votes still being tabulated in New York from absentees and early votes, the Bond Act stands at 3,348,188 to 1,580,379 with over 4.9 million New Yorkers voting on it.
Click here for county by county results. Click here to read more about the Bond Act. PROTECT advocated for its passage in the Legislature and campaigned for its passage on Election Day 2022.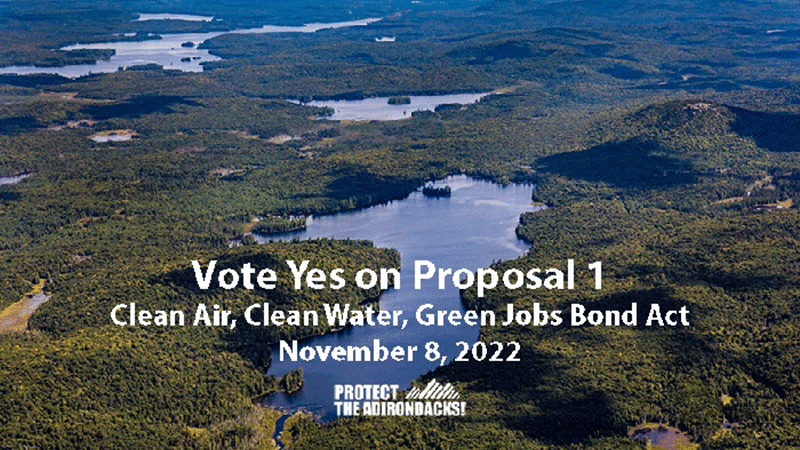 Five proposed Article 14 Amendments were introduced in the Legislature in 2022
From 2007 to 2017, five amendments to Article 14 of the New York Constitution were passed by the Legislature and approved by the voters across the state. This period marks the busiest point in New York's history for amendments to Article 14. In the wake of this flurry of amendments, five new draft Article 14 amendments have been proposed by different Legislators or the Governor in the last few years. In the most recent legislative session in 2022, all five were formally introduced in legislation. PROTECT takes amendments to Article 14 very seriously and we were actively involved in their legislative review every step of the way. In the end, none of these amendments advanced.
For the constitution to be amended in New York, a proposed amendment must be passed in successive years by two separately elected Legislatures. This is known as "First Passage" and "Second Passage." Each legislature is elected to two year terms. This means that First Passage is sought in the second year of one legislative term, and then Second Passage to pursued in the first year of the next legislative term. Both the State Assembly and State Senate must pass each amendment. Once passage has been accomplished, the proposed amendment is placed on a statewide ballot. The Governor has no role in a constitutional amendment.
2022 marked the second year of the most current legislative session and there was a flurry of activity on five different amendments around First Passage. In the end the State Assembly passed just one of the five draft amendments and the State Senate passed a different one, so none of the proposed amendments secured First Passage, leaving supporters to try again in 2024.
These five amendments were a mixed bag. PROTECT supported an amendment for the Mount Van Hoe-venberg Winter Sports Complex to authorize various uses and acreage for winter sports, such as cross-country skiing and biathlon. In this way, the Mount Van Hoevenberg facility would be managed through an Article 14 amendment that set limits on its activities, similar to how the Gore Mountain and Whiteface Mountain Alpine Ski areas are managed. This amendment would help to clean up some existing violations of Article 14 at the winter sports complex.
We opposed an amendment for new emergency communications equipment on Cathead Mountain that differed wildly from a consensus effort that we worked on for years. We had worked for four years with the private landowners and local governments towards a solution, but then in 2022 they abruptly changed their positions. We supported an amendment to remove the Camp Gabriels prison complex from the Forest Preserve. We opposed an amendment to privatize the Debar Lodge property on Debar Pond because we believe that this site should be restored and freely open to all visitors and not made an exclusive private property. We were interested in a very late proposal to place an expiration date on the NYCO mine expansion amendment that was approved in 2013, but it has not advanced.
There is a lot of information on the nuances of all of these amendments on our website.
Click here to read about Camp Gabriels.
Click here to read about the Mt. Van Hoevenberg Winter Sports Complex amendment.
Click here to read about Cathead Mountain.
Click here to read about Debar Lodge.
We anticipate that all of these amendments, in one form or another, will be in play for First Passage in 2024.
It's Time to Double the Size and Diversify the Forest Rangers in New York
These days are a very difficult time for the New York Forest Rangers. This small group is called upon 24 hours a day and seven days a week to help lost and injured hikers using our public lands. PROTECT has been working with others to expand the number of Forest Rangers.
Right now, after a new Ranger Academy graduating class in November 2022, there are around 159 active Forest Rangers in New York State, stationed mostly in the Adirondack and Catskill Parks. Of this group, over 25 are eligible for retirement in the next 24 months. We need to double the size of the Forest Rangers corp across New York, with a special emphasis on the most highly used areas of the Adirondack and Catskill Parks. We also need to diversify the Rangers to ensure that there are more women and people of color in the Ranger ranks. This involves building specific new recruitment methods, changes to Civil Service criteria, and doing more to make the profession of a New York Forest Ranger open and accessible to all interested and qualified people.
PROTECT will continue to work with other groups to expand and rebuild the Forest Rangers as we push to double and diversify the Forest Rangers in New York.
Standing up for Wolves and Coyotes
In December 2021 an 85-pound wolf was killed by a hunter in central New York. The hunter notified the DEC as he was alarmed by the size of the animal. The DEC initially stated it was a coyote, but then two independent DNA tests, one paid for by PROTECT, confirmed that this animal was a wolf, and then DEC acknowledged in September that the wolf was a wolf. Under New York State law and the federal Endangered Species Act, any wolf that wanders into New York is protected as an endangered species. Clearly, the wolf shot in central New York never enjoyed such protections. Since this summer, PROTECT has been working with a coalition of groups to improve protections for coyotes and wolves in New York.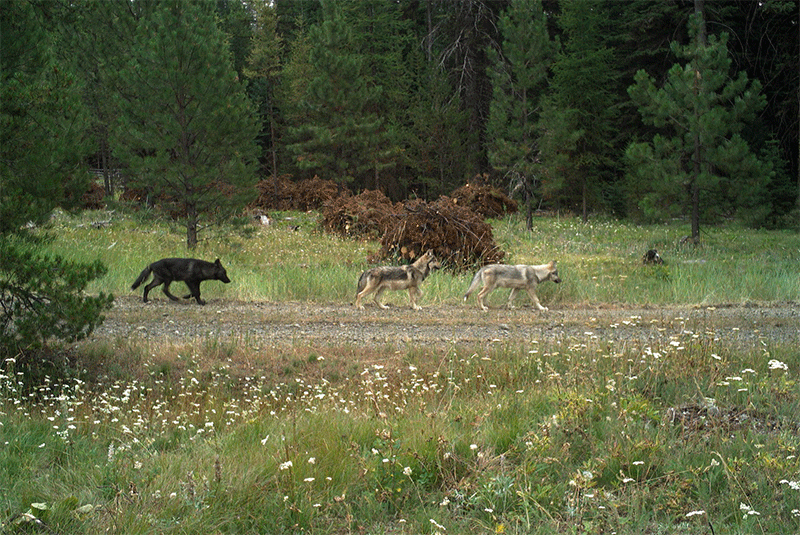 Our efforts now are focused on trying to bring reforms to the 6-month-long open coyote hunting season in New York where there is no limit on the number of coyotes killed each day or for a season. We believe that coyotes over a certain size and weight should not be hunted and that there should be mandatory reporting of all coyotes killed. The coyote season should be shorter, with limits on the number of coyotes taken. We're also pushing DEC to better educate coyote hunters as to the differences between wolves and coyotes and about how to clearly identify a wolf in the field. We're also pushing for a new statewide coyote study that builds upon DNA studies in the 1980s and 1990s. We'll be pushing for these reforms at the DEC and in the State Legislature.
Independent Public Oversight for Monitoring Private Land Development
The Adirondack Park is experiencing a building boom. While there are just a handful of large developments, like the 120-lot project in Jay mentioned above, most of the development occurs in a house-here, house-there pattern. In the last two years, since the beginning of the Covid pandemic, we've seen a spike in development trends in the Adirondacks.
We've worked with local groups concerned about their quality of life and negative impacts to their small businesses from two mining projects. In the western Adirondacks, we worked with the Adirondack White Lake Association, which is concerned about a new granite quarry permitted in 2022 in Forestport. White Lake is a small rural resort community. Over 1,000 landowners opposed the new mine, but the APA approved it with only minor changes. The Association and PROTECT teamed up with the PACE Environmental Law Clinic to challenge the decision, which is currently on appeal.
In the central Adirondacks we've worked with local property owners and groups concerned about the massive expansion of Barton Mines in North River. This is the only mountaintop mine in the Adirondacks and it's seeking to lock in a 24-hour-per-day mining schedule. Neighbors are concerned about chronic noise, dust, water quality, and visual impacts from highly visible tailings piles that are projected to grow 100 feet higher. This mine borders the Siamese Ponds Wilderness and there are noise, dust, and visual impacts to the Forest Preserve. We'll continue to work with local residents on these projects in 2022.
We also submitted a Friend of the Court brief in the legal challenge to the major marina expansion on Lower Saranac Lake where no carrying capacity analysis was performed as required by the law. We also supported the Lake George Park Commission's efforts to pass new septic system regulations for the Lake George watershed.
We'll also continue to push for reforms at the Adirondack Park Agency. We're monitoring and commenting on an array of projects across the Adirondacks. We're also pushing for new APA Board members to help reform the Board by bringing on members who are scientists, have experience in land use planning, or public lands management, and can help to reorient the APA from its current misguided priority of economic development.
Online Hiking Trail Guides are Incredibly Popular and Provide Top Hiker Education
In 2020, PROTECT started publishing online hiking trail guides to showcase trails and destinations often off the beaten path, outside of the busy High Peaks Wilderness Area, and in all corners of the Adirondack Park. By early 2021, we had posted 100 hikes. These trail guides have proven very popular. We're working in the months ahead to add more hikes and this winter we plan to start posting guides for cross country skiing, paddling, and even more hiking trips. See Hiking Trails on our website to read about a variety of great hikes across the Adirondacks.
Each online trail guide emphasizes that hikers follow "carry in, carry out" rules for all trash and follow all other Leave No Trace principles when hiking in the public Forest Preserve and other wild areas. The seven Leave No Trace principles are: 1) Plan ahead and prepare ; 2) Stay on hiking trails and camp at designated areas; 3) Dispose of human waste and trash properly; 4) Leave what you find; 5) Minimize campfires; 6) Respect wildlife; 7) Respect other hikers.
Educated hikers do not damage the environment. Prepared hikers do not need search and rescue unless injured.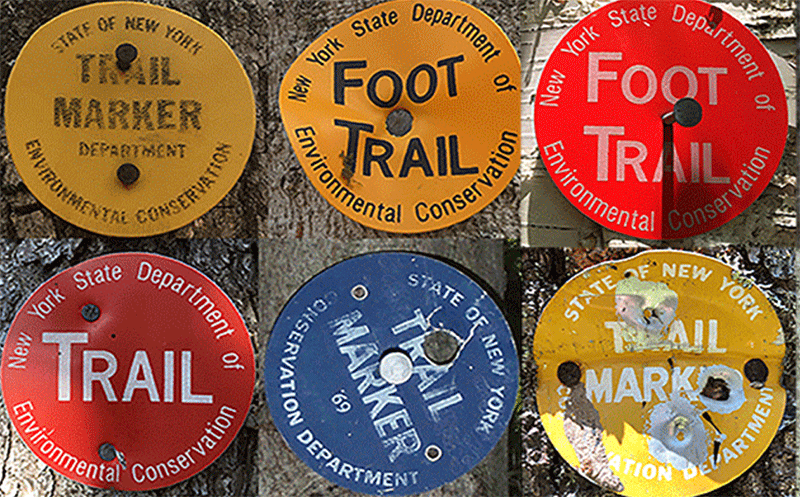 Blue Mountain Lake Steward Project
2022 marked the 28th year of PROTECT's administration of the Blue Mountain Lake Steward Project. We manage a team of stewards who provide public education about "Leave No Trace" camping and recreational use on the sensitive island campsites and day use areas on the lake and Eckford Chain. This program has also expanded into work on early detection and surveys of aquatic invasive species. We partner with the DEC, local Ranger, Blue Mountain Lake Association, and foundations. Last summer, we worked with a team for four stewards to manage the program and protect the lake.
Vital Research
In 2022 we made progress on updating our seminal study, Growth in the Adirondack Park, of development patterns and rates in the 1990s. We're now compiling data on building permits issued by the 99 towns and villages in The Adirondack Park for 2000 to 2019, picking ups where the 1990 study left off. So far we have reviewed over 80,000 building permits issued by local governments and we have less than two dozen towns and villages to go. We're also analyzing over 5,500 permits issued by the APA over the last 20 years.
Growth and development rates are clearly driven by national trends and events. There was a major increase after the 911 attacks in 2001. Development was steady until the collapse of the housing bubble in 2008-2009, which persisted for years. A major building boom was ignited by the Covid pandemic as we've seen a boom in the Adirondacks from 2020 through 2022.
In 2023, we plan to update our major study The Adirondack Park and Rural America: Economic and Population Trends 1970-2010 to include data from the 2020 Census. Unfortunately, changes and delays in Census data have hampered this update, but the Census says all necessary data will be out by the middle of 2023. This is welcome news.
We were able to do some minor updates with the release of partial Census data. Click here to read about school district enrollments changes. Click here to read about population changes in the 2020 Census.
We plan to publish these major studies in 2023.
Longtime Environmental Leader Christopher Amato Joined PROTECT in 2022
We're very pleased that Chris Amato joined us as our new Conservation Director and Counsel in August 2022. The Conservation Director and Counsel leads our conservation and advocacy efforts for Forest Preserve protection and management, independent public oversight of private land development and natural resource protection, as well as policy review and legal action. There's a long list of pressing work on all of these issues across the Adirondacks.
Chris has a long history of involvement with Adirondack Park issues, beginning with his work as a Staff Attorney at the Adirondack Park Agency, as Deputy Commissioner for Natural Resources at the Department of Environmental Conservation, and as an attorney in private practice and with EarthJustice where he represented Protect the Adirondacks and other advocacy groups. He also served as an Assistant Attorney General. Most recently, Chris worked as Senior Counsel in the New York State Senate Majority Counsel's Office. 
Chris's broad experience in Adirondack land use and Forest Preserve issues makes his impact immediate and substantial as he takes the lead on independent public oversight of Adirondack Park management and land use and development.
Howard Zahniser Adirondack Award in 2022
Protect the Adirondacks was pleased to honor Elizabeth Thorndike and Peter S. Paine, Jr. with the Howard Zahniser Adirondack Award in 2022, the organization's highest honor. Howard Zahniser was a towering figure in American conservation history who relentlessly campaigned for the National Wilderness Act, which he modeled in part on the forever wild clause in the New York State Constitution. This award in his name is the highest honor given by Protect the Adirondacks to recognize people who have made outstanding contributions to the environment and success of the Adirondack Park.
Click here to read about the long, successful, and important careers and contributions to the Adirondack Park and Forest Preserve from Elizabeth Thorndike and Peter Paine, Jr.
Adirondack Lake Assessment Program
We're extremely proud that the Adirondack Lake Assessment Program (ALAP) turned 25 years old in 2022. Click here for more information about ALAP. This program is a partnership between the Paul Smith's College Adirondack Watershed Institute and PROTECT. Over the last 25 years we've successfully built a long-term database of water quality conditions on an array of Adirondack lakes and ponds. This data has helped with watershed management programs, substantiated long-term trends, and identified road salt pollution as one of the chief threats to Adirondack waters.
ALAP has become one of the best citizen science water quality monitoring programs anywhere. We're working to make sure that ALAP flourishes for another 25 years.
Defending the Adirondack Park and Righting the Public Record
Protect the Adirondacks trues to communicate on a variety of platforms to get the word out about the importance of the Adirondack Park and the Forest Preserve. There's a lot of noise in the world today and the media landscape has changed dramatically over the years. We do our best to try and break through. We challenge false accounts when necessary to set the record straight and we try and bring good information to the public debate. We still believe that facts and truth and science matter in public policy and public debate.
Click here to read our Public Comments. Click here to read our web posts. We regularly publish on the Adirondack Almanack and New York Almanack. Check us out and follow us on Twitter or Facebook. Click here to read a recent piece from the end of 2022 "Lame, Tired, And Wrong Blame-The-Park Editorializing Persists" where we tried to set the record straight.
Thank You to All Members and Supporters!
Thank you! We are incredibly grateful for the support of our members. None of the work detailed above could be done without your help. We have scored major victories in the past few years where we've won new protections for the Forest Preserve and the wild places in the Adirondack Park. We've been able to build long-term programs that have contributed to our scientific understanding of different challenges facing the Adirondack Park.
Thank you so much for your support and let's make 2023 even better!